So, you got yourself into bad credit? You are not the only one who is suffering from the phenomenon called bad credit. Many Americans who cannot manage their check systems can fall into the problem of bad credit. Especially ChexSystems can be a real dent in your feet to stop yourself from banking again. You may be denied having any banking options from your bank. On the other hand, you may be denied a business bank account when you are going to open it. We will see in this article how to get a business bank account with bad credit.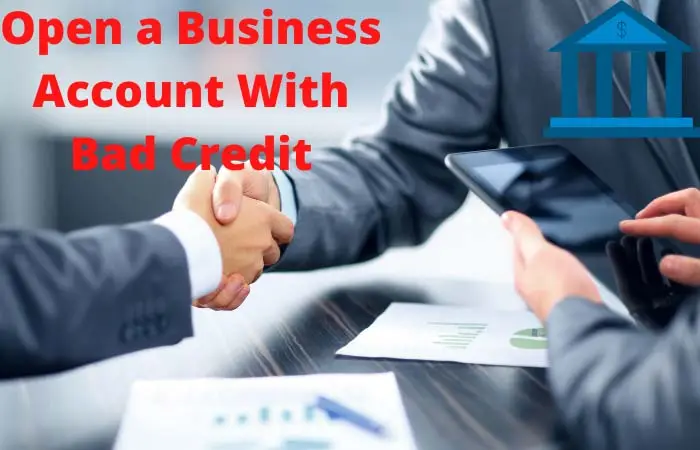 There are a few banks that are offering bank accounts without Credit Check systems. Besides, some other banks believe in second chances. Like:
BBVA USA
BBVA offers no ChexSystem Business Accounts. The BBVA business account for a sole proprietorship is okay to submit online. But while you are trying for other types of business, then you should go and visit the BBVA USA branch nearby.
The account is free from monthly charges and includes mobile and online banking. Besides bill paying is allowed in this account. BBVA is generous and popular for its second chance banking accounts.
Chime Business Account
Chime has another banking option for those who have a certain bad credit history. It cuts off most of the monthly charging fees. Free MoneyPass ATM card is included in the service. Besides, you can also avail of free overdraft and no monthly charges for your maintenance.
This account can be opened online and you don't need to deposit your money to open it. Even the minimum balance can be kept at $0. And if you need foreign transactions, that is also free with this account.
One thing to remember is that this second chance account is not a business account. But it will give you access to financial freedom for your business by giving access to most of the services.
Chase Business Checking Accounts
Chase Business Checking Accounts are popular among those who are looking for a second chance checking account. They provide a debit card with the prepaid value. Chase also does not require a credit check system. But they might look into the ChexSystem details to see the records.
No opening balance is necessary when you are looking forward to opening a Chase account. Nor does it require ATM fees when you are using their ATMs.
Wells Fargo
If you know how to get a business bank account with bad credit, then it's okay but Wells Fargo is the only bank that will give you a real second chance account. Although the account is costly, it will provide you with all the benefits you deserve even if you have a previous bad record with your bank. Your business account will not be denied.
The monthly fee of $10 along with $2 for paper statements is more than costly sometimes. But Wells Fargo Opportunity Checking account will wave you the fee if you have a minimum of 10 purchases with your debit card provided with the account.
Radius Bank Business Account
Although Radius Bank charges $9 monthly and has a limit of $500 on Debit Card Transactions, it gives a good second chance at banking. Through this personal account, you can even have a business account. As Radius does not check the negative markings on the bad credit lines, they offer you a MasterCard, Free Online and Mobile Banking, Freedom from minimum balance, and an ability to redeem your up-gradation after 12 months of good banking.
Allegiance 
Allegiance uses credit check systems but they have an offer for Second Chance Checking accounts. It believes in second chances and offers some pretty valuable features if you are looking for a good fresh start.
You will need only $25 for opening the Allegiance Account. You will get a Visa Debit Card and Free online and Mobile banking with this card. A monthly balance is not required but a monthly $12 service charge is necessary to pay. If NSF Fees do not occur, the amount in the first 12 months will be repaid to your account. You can even upgrade to a regular account.
With this account, you can open your business account even if you have a bad credit history.
GoBank

GoBank offers an Online account fully manageable by the Online app. It has a large AtM network all over the USA and provides transactions free of cost. The monthly amount to be paid for the services is only $8.95. But the monthly amount can be waived if you can deposit $500 monthly.
This is the bank that started mobile banking first in the USA. So their service when it comes to online banking is unquestionable.
NetBank Second Chance Checking
This is a very interesting banking system that offers good business account features. This offer has been introduced by Axos Bank. Seriously, if you are in problems because of ChexSystems, this may offer you help to come out of the pit and embrace banking again.
First of all, the system is digitalized and has no branches in your locality where you might ask for help. But the features will exceed your expectations.
You only need $50 to open the account. With this, you will get a free VISA Debit Card. You will get online banking and mobile banking that comes with mobile check deposits and you can deposit cash with Green Dot associate retailers anywhere.
Read More:
Conclusion
A good bank stands up for its customers and supports them through the time of their need. If you are starting a business and looking for real support, then these banks can assure to help you.
While you are going for a business, you are planning for your future. Maybe the past is a dent, but not something which can stop you from moving forward. Many banks appreciate that and stand by your side.
You must become associated with good responsible banking and look for the bank which best suits you in the long run. And which lets you do happy transactions all the time regarding your business.