Online shopping is one of the major forms of trade for connecting with customers regularly. This is why shopping online has been made easier by using Echeck. Now, What is an Echeck? Electronic checks, a digital payment option that replaces paper checks. To send money, E-checks use the same details as a conventional paper check, such as a user's bank account number and billing address. ACH transaction, ACH payments, and direct debit are all terms used to describe electronic checks.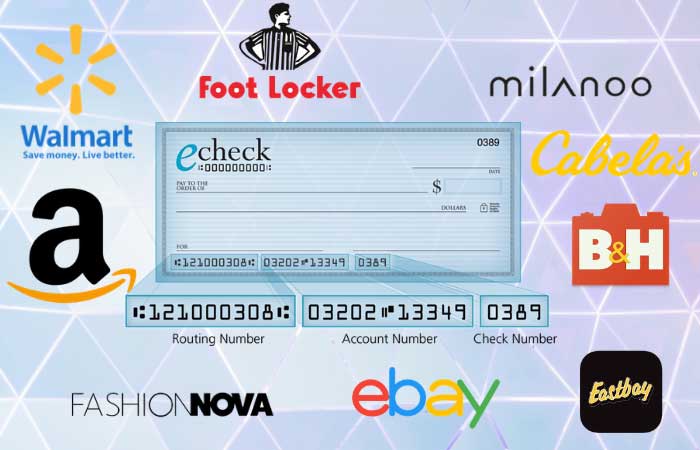 Users can now shop online and pay with a checking account. Electronic checks have more safety features than traditional paper checks. While most consumers prefer to pay online with a credit/debit card online, an electronic check is a good choice that is often forgotten. This was the first Internet-based payment method used by the US Government to make massive online payments. This is why our discussion today is about shopping sites that accept Echecks.
Various Ways To Pay With Checks Online
Electronic checks can be used instead of paper checks in online stores. Users can now pay with echeck online. Online shopping is quite different from in-store shopping, which requires the user to pay with cash or paper checks. Electronic checks can be used instead of paper checks in online stores. Here are some online checks that are used by the users in online shopping;
Paper Check by Mail
They use an electronic reader to perform a quick paper scan. The users' account details will be extracted by the computer, and the payment will then be deducted from their bank account.
The user has to place an order online for all of the goods and is aware of the total cost of the items.
To be patient while the check is sent to the intended recipient. The receiver may either cash the check or process it manually.
Electronic Check ( Echeck)
This is yet another maintainable and convenient payment method of using Echeck to pay for online purchases. Customers have to pay with their bank account number. This is where the online store in particular allows the user to securely transfer money to their bank account via the national automated clearing house server.
Electronic checks are very simple and productive. It requires less effort to process the transaction with strict security precautions. There are no extra charges cashing in Echeck payments. Even in hotels, Users pay with a checking account for hotel reservations.  
Electronic Check via PayPal
Another choice for paying with checks online is to use PayPal. You can pay checks online using your checking account as long as the online store accepts PayPal. To link in your PayPal account to Echeck,
Create a free account at Paypal.com.
Go to 'Link a card or bank'
Fill in the checking account's routing number and account number.
Double-check your account. After the verification period of 120 hours, you can use your PayPal account to pay your online seller via check.   

Online Shopping Stores that Accept Echeck as Payment
Do customers often ask what stores accept personal checks as payment? Then there are a few reputable online stores that have everything that you might need that accept payments via checking account number.
Related Articles:
Amazon

Amazon has several customers being the world's biggest retailer. You can add a checking account to your Amazon and use Echeck to make transactions. But, a user cannot buy gifts or make transactions that exceed a set limit.
This restriction is determined by your Amazon purchase history. Visa, Mastercard, Paytm debit, and credit cards from all banks, are also accepted. It should be noted, however, the user should be aware that Amazon does not allow payments from PayPal.
Walmart

Walmart is certainly a competitor to count against when it comes to the world's most popular retailers. This is why customers can complete their transactions by using Walmart Pay, an online check powered by Walmart. Walmart offers clients the ability, unlike Amazon, to pay via PayPal. Walmart was among the first online retailers to approve Echecks.
Users' can attach a checking account to their Walmart Pay and use an online check in the shipping and payment portal. Certegy is used by Walmart to process Echecks.
Fashion Nova
If you want to make sure that your wardrobe is on the right track, Fashion Nova is certainly a shop that you don't want to miss. Fashion Nova is a retail company that deals with fashion attires and offers a variety of payment options to its customers. The company accepts checks along with PayPal-related accounts.
They also accept payments via Visa, Mastercard, Amazon Pay, Apple Pay, and Google Pay. They also have their payment platform which is QuadPay. QuadPay is a blockchain for installments that allow you to pay for products in four simple installments every week or two using a debit card.
Footlocker

Because the majority of people prefer to shop online, retailers such as Footlocker have expanded their methods of payment. However, the company notes that a paper check should be mailed to notify the recipient of the check. Customers should keep in mind that the cheque must be presented within 15 days of your request. Footlocker accepts major payment methods like Mastercard, Visa, JCB, and debit cards.
Eastbay  
Eastbay is a sports clothing, footwear, attire, and sporting equipment online advertising retailer. Eastbay is one of the few shoe stores that accept checks online. Giving away special offers ensures customers buy shoes online with a checking account. Even if Eastbay requires to check payment, checks worth more than 500$ are not accepted. If a user sends their check two weeks after placing their order, it will be rejected.
Milanoo.com
Milanoo is an online shopping website with a variety of different outlets of clothing and footwear. Milano is another online shopping store that accepts check payments. To be precise, it accepts two types of checks, PayPal or Electronic Funds Transfer (EFT). The bank transfer method involves the use of banking information found on Milanoo.com which allows users to pay with a bank account number.
eBay 
eBay is a marketplace where sellers can auction off goods to the general public or attract a particular audience of their preference. They are a massive corporation that serves as a verification portal for customers and retailers. Most of the time, this method of payment is only available for goods that fall into particular categories. eBay accepts checks online, but products will not be shipped until the payment is transferred to the buyer's account. Also, remember to select the Echeck option under the 'Pay with PayPal' option. 
B&H
When it comes to payment by check, B&H takes a different approach than the majority of the retailers on this list. To be more accurate you must dial (800) 952-3386. When the user dials the above number, they will provide them with a quotation. Other methods of payment accepted by B&H include the eWallet App, PayPal, and PayPal credit. 
Cabela's
Another retail company gives the choice of paying with an eCheck or paper check sent to the user. Cabela's also provides an address where the user can mail their check if they'd like to use it. Users can submit their order to Cabela's by mail at the following address: 
Order Processing, Cabelas, 2500 E Kearney St., Springfield, MO 65898
Appliances Connection, Inc
Appliances Connection is an official retailer for several major appliances and furniture manufacturers. Clients have the choice of paying by Echeck or by paper check mailed to them. Clients must call (800) 299-9470 and set a personal check payment. 
Remarks
It is a safe, stable, and easy way to send and collect money without incurring any fees. The payments are made to the bank account or digital wallet. Since they have raised our standard of living by making online shopping easier, safer, and more convenient. We illustrated a variety of markets in this guide that supports and refuses to accept E-checks. The above discussion answers all the queries regarding any shopping sites that accept Echeck.