Everything in this digital world is now serving great conveniences for us. The boring old orthodox shopping might be nerve-wracking for some of us, and some of us are probably so indulged in online shopping that it is the new normal, which, by the way, is completely fine. It can sometimes be a hassle to consider paying when the delivery man is at your doorstep, so we nowadays opt for the online billing method. When Christmas, Halloween, Easter, and holidays approach, it is time for us to think about gifts and be open about receiving presents. Visa gift cards are a fantastic choice for a practical present. Many physical stores accept Visa gift cards, and many physical restaurants accept visa gift cards too. However, today let's see what online stores that accept visa gift cards.
What Are Visa Gift Cards, and How Do They Work?
These gift cards are prepaid cards full of a certain amount of funds, and Visa gift cards are generally capable of making multiple transactions as long as the value remains intact. Visa gift cards are prepaid cards that work like debit cards. These cards need to be activated to work smoothly. The holder can then make payments to online stores that accept visa gift cards as long as the balance doesn't expire.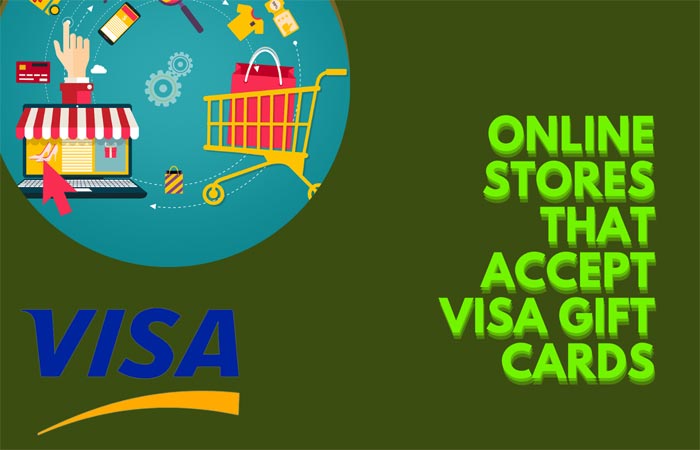 Is It Necessary for Me to Activate My Visa Gift Cards?
To be used efficiently, they need to be activated prior to use. An activated gift card can only be used to make successful payments and purchases. Usually, these cards are activated by the person who gifted the card to you or from the store they acquired it. However, if yours isn't active, here's how you can do it.
On the back of your card, you will notice a sticker that holds the activation link listed.
You can activate visa gift cards online too.
Or directly contact the number that you are listed on the sticker on the front side of your card.
Can I Pay Online With Visa Gift Cards?
To be precise, you can pay online with a visa gift card at any online store that potentially accepts visa cards. However, in order to efficiently pay online, register your card. In case your card gets declined even after the minimum requirement fulfilment, it can be possible that you don't have a sufficient amount of money left on your card. Also, bear in mind that some retailers or merchants rarely won't accept a visa gift card for billing. If it's a website, call their hotline for more information.
How to Shop Online With Visa Gift Cards?
Typically, visa gift cards can are accepted in any online store that accepts visa cards in general. Now you might be wondering, what are the procedures for online clothing stores that accept visa gift cards or any online store that generally accepts visa gift cards? Here is a straightforward guide for you listed down:
Enter the card number.
The expiry date.
3-digit CVV number. (Look for it on the back of your card )
Websites might ask you to clarify the type of card. There, enter 'visa gift card' in the field provided.
If the item you purchase exceeds the amount provided on the card, your card will automatically decline without cutting any funds.
Each time you make a successful purchase, the amount is automatically deducted from your given balance.
10 Online Stores That Accept Visa Gift Cards
Any online store that accepts visas will accept a visa gift card. However, if you are having trouble checking out, you must call the hotline or ask the hotline to provide you with the merchant's number so you can talk directly. This is a list of stores that accept Visa gift cards:
1. Amazon
Amazon accepts both credit and debit cards that are visas. Amazon also accepts debit visa gift cards and all kinds of gift cards smoothly.
2. Sonos
Sonos is an American store that offers a vast array of electronic devices. This online store is top-rated around the USA, and Sonos also accepts Visa cards.
3. Target
Target has both physical and online stores, and Target has a wide selection of apparel, shoes, jewelry, furniture, beauty products, and many more. Target also accepts Visa cards.
4. Walmart
Walmart is a retail corporation that sells clothes, skincare, accessories, office supplies, and many more. Walmart has a lot of payment options and also accepts Visa Cards.
5. PetSmart
PetSmart is a store where you can find all kinds of things related to your pets, and PetSmart accepts Visa cards.
6. Newegg
Newegg has top-rated customer services and sells computers, laptops, office supplies, and much more. Newegg accepts a lot of other cards and Visa too.
7. Overstock.com
Overstock.com has a lot of designer brands and home goods available at a cheap rate. Overstock.com has a lot of options for payment and also accepts Visa cards.
8. Alibaba.com
Alibaba.com is an eCommerce site offering a reasonable price for jewelry, clothing, apparel, health, and beauty products. This site also accepts Visa cards.
9. Avis USA
This store is a rental car brand that accepts Visa too.
10. Best Buy
Best Buy is an electronics supply store that also offers you a lot of payment options. Best Buy also accepts Visa cards.
Conclusion
Gift cards are very useful during the festive season. Now we hope that you have understood well how these gift cards can be used more effectively. Conclusively, visa gift cards can be straightforward and handy to make payments with. In this article, we have outlined what online stores accept visa debit cards, and what online stores that accept visa gift cards, and we also got to know that Amazon accepts Visa gift cards too. This article will prove to be immensely helpful for you.
Frequently Asked Questions
Can my gift card be used to obtain cash at an ATM or bank?
No, your gift card is not valid for cash withdrawals at financial institutions such as ATMs or banks. Nevertheless, you may spend your gift card at any store in the United States that accepts Visa debit cards as a form of payment.
What can I do if my Visa gift card is lost or stolen?
You will have to call your card issuer or the customer care service and let them know the situation so they can further assist you
Do these visa gift cards have a fee? 
You can typically be charged a one-time fee between 2-7 dollars
What should I do with my Visa gift card once the value is depleted?
Keep your card in case you need to return any of the products that you have bought, even after the amount on the card has been emptied. When returning things that were bought with the gift card, you could be requested to provide the card as a form of identification.
Can I use my visa gift card as a debit card?
Obtain a pin number first in order to make use of them as a debit card. Just in case you don't have a secured pin number set, you can still use the gift card as a normal credit card.