Gifts to a friend or loved one is called "knotting an extra tie to the relationship." We become happy to see the receiver's smiling face. What if the person is allowed to choose his or her desired item? Gift cards enable such! To decide on gift cards, you might be worried about not having a debit or credit card. We solve your problem. Here, we discuss the ins and outs of buy gift cards with account and routing number.
Benefits of Gift Cards
Provides a positive impression.
They are always decent gifting solutions with a no-guilt feeling.
Possible personalization.
Provides receivers with freedom of choice and selection.
It pleases the loved ones.
Makes the occasions memorable.
Buy Gift Cards with Account and Routing Number Online Instantly
There are several prominent sellers that allow you to purchase gift cards with a checking account and routing number. We include the most popular ones.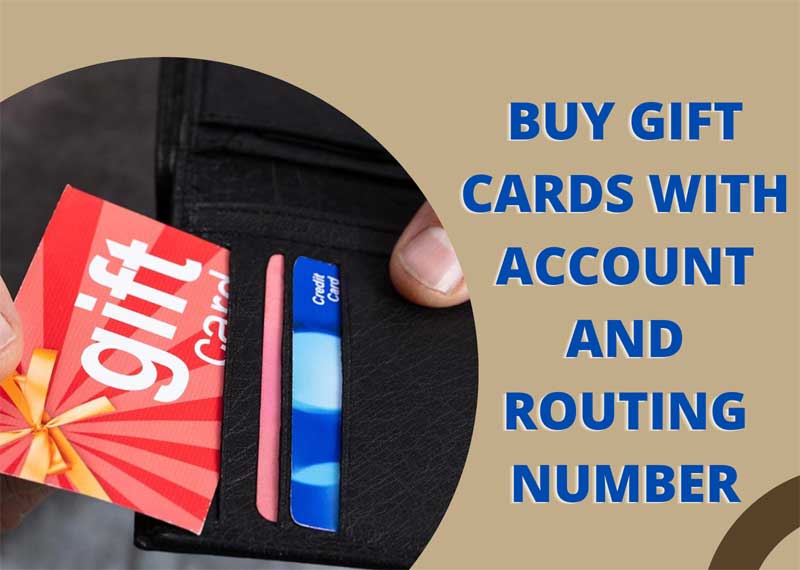 1. Amazon
Amazon is a superstore. From Amazon, buyers can purchase almost every type of gift as per budget and taste. Purchasing Amazon gift cards with an account and routing number is easy. It not only allows buyers to purchase items from Amazon.com but also allows them to buy many third-party products. So using gift cards is a good choice, as there are a variety of options and facilities.
To use Amazon, all you have to do is log in to your Amazon account and go to the checking account option under the payment option. Here, you have to connect your account by using the routing number. Most amazingly, Amazon allows buying gift cards with an ACH enabled account.
2. Using Cash Card
Using CashCard to buy gift cards is a lucrative option. You can purchase gift cards by visiting CashCard.com. In general, it offers gift cards with discounts of 4%–18%. In addition, gift cards purchased using Cash Card come with the opportunity to sell back the remaining balance of a gift card on CashCard.com. It accepts payment from a checking account with the help of the 9-digit routing number.
To purchase gift cards from CashCard, please follow the below steps:
Create an account at CashCard.com.
Complete at least 3 transactions without connecting an account.
Send your driving licence's copy along with a filled-out solicitation for ACH access.
These documents need to be sent to [email protected].
Upon successful completion of the approval process, you can use your bank account to purchase gift cards at CashCard.com.
3. Using PayPal
PayPal is also a great way to get gift cards. It supports top-notch gift card sellers like eBay, Card Cash, etc. To use PayPal for this purpose, please follow the below steps:
Create a PayPal account with the required details.
Upon preliminary approval, link your account to PayPal by using the routing number.
In general, PayPal takes five working days to verify the details you provide.
Once activated, you upload money to your PayPal account from your bank account.
Now you can use your PayPal balance to pay for gift cards from eBay, CashCrad, etc.
4. e-Check
There are many stores that accept echeck payments for your gift card purchase. You have to fill out a form at the physical outlet or website of the respective store. In the form, you need to insert the account number, personal details, and routing number. The store authority will check the given information's validity and authenticity. Upon approval, you may conduct your gift card purchase. It should be mentioned that many stores have over-the-phone facilities to collect the data and providing approval.
5. Macy's e-Gift Card
Macy's e-gift cards are the best solution for purchasing an e-gift card with a checking account. To buy Macy's e-gift cards online instantly, you have to use your PayPal account, which is connected to your checking account. From Macy's, $10 to $1000 valued gift cards can be purchased.
6. Nordstrom
Nordstrom is the best place to buy exclusive items as gifts. Their specialty is stocking only top-notch and trendy products. Nordstrom accepts payments through PayPal. To buy a gift card from Nordstrom, an active Paypal account linked with the checking account is necessary.
7. Bloomingdale
Bloomingdale is a renowned name for gifts. They sell designer products that are unique and attractive. You can get your gift card from this online store by using your account and associated routing number. You just have to connect those with your PayPal account.
8. Target
Target is a market leader for any type of product purchase. It not only offers quality products but also has very cheap prices. Not to mention that this store is one of the best selections to buy gift cards with account and routing number. You can allow your loved ones to have items like shoes, electronic products, clothes, decorative pieces, toys, video games, etc. by giving a Target gift card. It is advised to inform your friend or loved ones to check with Target before making the item purchase as this store eventually offers discounts on various items.
9. Best Buy
Best Buy's gift items are phenomenal, offering travel, movie watching, dining at the finest restaurants, electronic items, sophisticated decorative pieces, music, video games, and you name it. It's gift cards valued from $15 to $500. Best Buy comes with a unique approach in the case of gift cards: its gift cards are printable and can also be sent through email.
Buy Gift Cards with Account and Routing Number at Physical Stores
Almost every retailer in the USA allows the purchase of gift cards. The following are the most popular ones.
1. Costco
Costco allows purchasing gift cards by using an account and designated routing number. Its gift card buying facility is available in-store and online. To buy a Costco gift card by using your checking account, you have to contact a representative at the store or through the given contact information.
2. CVS
CVS is also a prominent US-based store for purchasing gift cards and using those. The process is straightforward. You have to provide your personal details along with bank account details to get approval for having a gift card. Its gift cards are refillable.
3. Giant Eagle
By gifting a Giant Eagle gift card to your friend or family, you are allowing them to choose items from more than a thousand brands. You can easily buy a gift card with account and routing number by visiting your nearest Giant Eagle outlet.
Other Physical Outlets
There are many other physical stores that sell gift cards. You can purchase gift cards from them by providing your account details and routing number. Like other gift card sellers, these stores' gift card values range from $10 to $2000 on average. We always advise you to inform the gift recipient that there is a huge chance to get products with handsome discounts. Below is a comprehensive list.
Kmart
Walmart
Walgreens
Big Lots
Meijer
Bottom line
The above-mentioned websites and physical stores are most suitable for buy gift cards with account and routing number. These not only offer quality and affordable gift items but also come with some discounts. Buy gift cards for loved ones and enjoy the occasion.
What can I pay with account and routing number?
Credit card and utility bills can be paid with account and routing number. To do shopping, you need to purchase store cards or gift cards with the account. Also, several online merchants allow direct payments from an account. However, connecting your account with PayPal by using the routing number is the best solution as PayPal is accepted widely.
Can anyone do anything with routing and account number?
If someone has both your account number and respective routing number, he or she can do massive financial damage. Always keep those safe.
Can I buy a gift card with Zelle?
Yes, you can buy a gift card with Zelle. You need to enroll first. Please visit https://www.zellepay.com/blog/sleigh-the-gift-giving-season