Like every financial institution, banks also charge you a significant amount of money yearly or quarterly in the name of maintenance fees. Statistics show that every year a checking account holder spends $65 to $144 to pay the bank's charges. If you are a millionaire, it is okay. And if you are not, you must switch to a free checking account. Now many US banks are offering this feature for online use. To maximize the advantages of such an account, you must find a bank that allows free online checking with virtual debit card. We've listed some of those bank details and offered features to save you time and effort. So, a free online checking account has no maintenance fee, but what else? And, also, why do you need a virtual card here?
Free Online Checking Account with Virtual Debit Card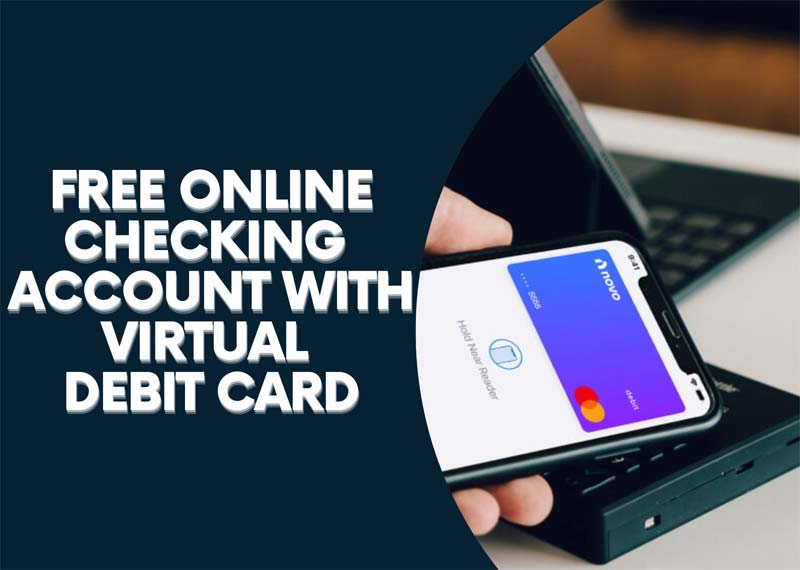 Why You Should Switch to a Free Online Checking Account
The below reasons are sufficient enough to make you switch to a checking account that is free and internet-based.
You won't pay anything at all—no opening charge, no processing fee, no maintenance charge, etc.
Unlike conventional accounts, your account remains activated with a zero balance.
Easy and convenient.
Accessiable from anywhere in the world.
They issue an instant virtual debit card for free.
Why You Should Get a Virtual Debit Card with the Free Online Checking Account
Here, we are going to detail the essentiality of a virtual debit card with a free bank account.
Makes money transactions easy.
Enhances your online checking account's security.
Applicable for shopping in both online and physical stores.
Can be used with your mobile money apps.
The best virtual debit card list includes Visa, Mastercard, etc., which can be used internationally.
How to Open a Free Online Checking Account
Below are step-by-step guidelines to assist you in the account opening process.
Select the bank (it should be done by comparing).
Fill out their application form on the official website by using personal details (name, address, phone, email, social security number, etc.).
After submitting, the authority will verify your application. The duration varies from bank to bank.
Upon receiving approval, log in to your online checking account.
Apply for a virtual card.
Most of the time, the card is generated promptly.
After receiving the card details (16-digit number, expiration date, CVC, etc.), you will be able to start using it.
The 9 Best Free Online Checking Account with Virtual Debit Card
Now we know the detailed benefits of having a free online checking account with virtual debit card. But what banks provide both a free online account and an online debit card?
1. Ally Bank
Ally Bank is a prominent banking solution provider in the US. It is FDIC-approved, which means your money is always secure in case of a bank crash. However, Ally Bank allows people to have an interest-bearing checking account without any sort of charge. Unlike other banks, Ally does not require keeping a standard balance to mitigate the maintenance fee. It issues a virtual debit card.
Features
Accessible from any place at any time.
If you deposit, you will receive a handsome amount of yearly interest.
Ally reimburses the ATM fees.
The issued virtual debit card is usable at any ATM in the world.
2. Chase Bank
With numerous banking products, Chase Bank is one of the most popular banks in the US. On its official website, it claims that it serves nearly half of the households in the United States of America. Its online checking account includes three categories: Chase Total Checking (for adults), Chase Secure Banking (for students), and Chase Premier Plus Checking (for adults and greater facilities).
Unfortunately, Chase Bank doesn't allow free-of-charge account maintenance. Still, the charges can be waived by keeping a prescribed balance. To waive fees, you must fulfil one out of three options within each statement period: you received or deposited $500 via an electronic medium; or a $1,500 or more balance at the start of each day; or you maintained an average daily balance of $5,000 or more (only for Chase Premier Plus Checking).
Features
Chase issues virtual debit cards, which can also be used on Chase's mobile banking app.
As long as you can maintain the minimum account balance requirement, there is no fee for ATM withdrawals.
You can use the issued virtual card at any contactless ATM in the US.
Read More:
3. Capital One: 360
When an online free checking account is a concern, Capital One:360's service becomes handy. You are not required to keep any minimum balance or pay an opening charge for this account. It also gives you unlimited access to over 70,000 ATMs from Capital One, MoneyPass, and Allpoint, so you don't have to pay for them.
You can easily open a 360-checking account online or in person at a Capital One store. It issues a virtual card upon creating a checking account through its app. Amazingly, it uses an automated feature to fill out the card's cardinals (obviously, it will ask permission from you) while conducting online purchases.
Features
You can do online transactions without paying any maintenance or service fees.
You may bank safely with their FDIC-insured checking accounts, which include fraud protection.
At their branches or cafés, they provide in-person support with their pleasant Ambassadors.
4. Chime Bank
Chime is one of the first free mobile banking apps that changed the way people use them. They have a top-notch free checking account solution (if you're willing to use it only on your phone). There are no fees for maintaining your account or having a certain balance. For banking, Chime doesn't have any physical locations. All of their banking is done online through the app. Everywhere you go, you can use the Chime Visa® Debit Card. It's made by The Bancorp Bank or Stride Bank, and Visa U.S.A. Inc. allows it to be used.
Features
Faster money transfer (maximum of two days).
With the SpotMe service, Chime spots up to $200 on debit card purchases without any overdraft fees.
5. Current Bank
The free version of Current's checking account is another suitable solution for you. You can also avail yourself of the premium version. The integrated virtual debit card with every account is usable while you are waiting for your actual card to arrive or if your card is now in the bedroom and you are sitting on the sofa. Keep in mind that Current Bank is very strict with its rules and regulations; in the event of any terms' violation, your virtual debit card, like a physical card, may be suspended at any moment.
Features
Over 40,000 fee-free ATM withdrawals.
There are no minimum balance restrictions.
No overdraft fees.
Cashback at 1x points is all part of the deal.
6. FNBO Direct
The FNBO Direct Online Checking Account costs only $1 to create, and you may earn interest on your balance. No monthly fees or inbound wire fees apply to this account. Allpoint's network of surcharge-free ATMs will be available to you with this account. A digital payment option may be linked to your FNBO Direct Debit card to make in-store, app, or online purchases from the comfort of your mobile device.
Features
Withdraw money anytime and anywhere with your virtual debit card.
You have access to 55,000 surcharge-free ATMs.
This bank has 2 million ATMs.
This bank offers first-class security and no monthly service fees.
7. GO2bank
As long as you received an acceptable direct deposit payment within the previous month's statement period, GO2bank will waive your $5 monthly charge. When you use the Go2bank app to purchase eGift Cards from approximately 100 well-known retailers, you can earn up to 7% cash back and 3% cashback offers on Amazon eGift Cards 2.
If you have a GO2bank virtual debit card linked with the respective online checking account, you can locate it on the app. Until you get your real debit card and activate it, you may make transactions with your virtual debit card online or by phone. Once you create a GO2bank account, your virtual debit card is only valid for 15 days or until you activate your actual debit card.
Features
No minimum balance is needed to open a checking account online.
Overdraft protection of up to $200 is provided.
The virtual debit card can be used on any contactless ATM network.
8. Varo Money
Varo is a cutting-edge application and an actual bank that provides excellent interest-free checking. Varo does not need a minimum amount or monthly fees. Upon applying, you will receive a virtual debit card, which can be used for online transactions or with your digital wallet while you wait for a physical card to arrive.
Features
Varo Money Banking is also an FDIC member, which means that your deposits are insured for up to $250,000 under the FDIC.
It doesn't charge monthly account fees, transfer fees, or foreign transaction fees.
Make transactions at over 55,000 ATM checkpoints.
9. OnJuno
OnJuno is a checking account by definition, but it provides a remarkable rate of interest that attracts many customers. As of this writing, you may earn up to 1.20 percent annual percentage yield (APY) on balances of up to $30,000. Their account may be opened for as little as $0, and there are no monthly fees!
Features
There are no fees for using their virtual debit card at ATMs that aren't in their service area.
Final Words
Any sort of free bank account facility is highly desirable among students and unemployed population groups, even for mid-income adults as well. This type of checking account doesn't increase their financial burden but allows them to meet every payment and verification need. After all, not owning a bank account is not even imaginable in this contemporary world. As a result, they have a stronger case for getting a free online checking account with a virtual debit card! You should be able to figure out that there are great choices for that, right? You might not need to pay to open a checking account; all you need to do is choose a decent bank.
Frequently Asked Questions
Is free checking really free?

Yes! As a general rule, a free checking account does not charge any kind of monthly fee to use its services. A monthly charge may be included in certain circumstances, but it may simply be avoided in others.

What are common checking account fees?
In addition to the monthly price, there are fees on checking and savings accounts for ATM withdrawals, ACH transfers, and more.
Do any banks offer a bonus for opening a checking account?
Yes! If you fulfill the bank's requirements, you might be eligible for a bonus when you create a new account. However, you shouldn't choose a bank based on a deposit bonus, but it can be a good way to get you excited.
Was this article helpful?