If someone does not want to pay for hefty cable bills, is there any way to watch free local channels on television? Yes, the solution is to buy a digital TV antenna—an amplified indoor or outdoor HDTV antenna. Over 60 million Americans watch television using antennas according to a recent survey. Since broadcast TV signals are just analogue radio frequency signals, all you need to do is to receive them with a traditional analogue antenna. However, the challenge is how to get local channels with antenna.
Do You Really Need an Antenna to Watch Local Channels?
To watch local channels, most people normally rely on cable or satellite TV. Getting local channels on your TV is much more reliable with a cable subscription. But if you don't want cable TV, there are Hulu+ Live TV, YouTube TV, DIRECTV Stream and FuboTV for watching local news channels. The top four local broadcast networks are also available through Paramount+, Sling TV, and Vidgo in select areas of the nation.
TV stations are still broadcasting content from channels over the air. An amplified antenna can easily receive transmissions from TV stations 30 miles range. If you live in a big city and have a digital TV antenna, you would easily get 70 to 100 channels and more.
Get Local Channels with Antenna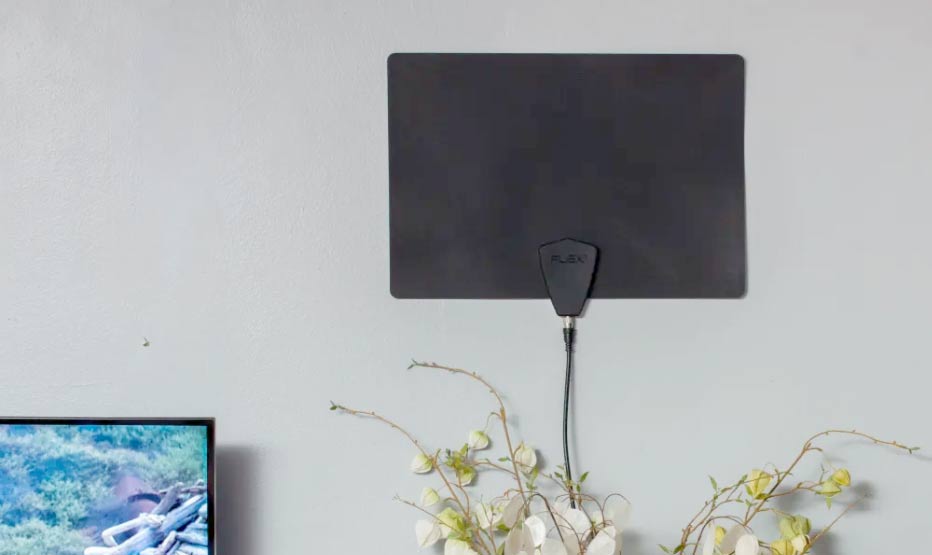 Although in comparison to cable or satellite TV, you'll only receive around a dozen channels using a digital TV antenna. But free local channels are worth the trade-off. You would be able to see local channels more cheaply by using an antenna than by paying for cable or satellite service. That's why, after decades, people are still using antennas. Now question is, how to get local channels with antenna? Let's just try to install an antenna, at first.
Before Using an Antenna
Be sure to check with your local broadcasters to see which ATSC channels are now broadcasting before making a decision on purchasing an antenna. You could also check out HDTV Pub on the internet. You will get a list of the local broadcasters just by entering your zip code.
Moreover, antennas are available for both indoor and outdoor use. Indoor antennas would be enough if you live in a region that receives strong signals over the air. But for most people, outdoor antennas are the best option. Outside antennas are always recommended as 50% of TV signals get reduced when they enter a home.
How to Find Local Channels With Antenna
As long as you live in a large city or town, using an antenna to pick up digital TV channels is an excellent option. Otherwise, smaller towns are having a hard time paying for and finding the resources to use ATSC because of the high expense of putting in the new transmission and other broadcast station equipment.
Setup Process to Get Local Channel with Antenna
Mounting an Outdoor Antenna
Installing an Outdoor antenna and scanning for available channels takes around 10 minutes to 1 hour. Now I will show you how to do it.
Finding nearby transmission towers will help you determine the antenna you'll need and how to position it, thus this is the most important step.
To reduce the risk of interference, it is best to place your outdoor antenna in a location that is as close to transmission towers as possible. Place the antenna 10-20 feet above ground.
Wall brackets keep the mast firmly in position. Moreover, strong wood walls are ideal for installing wall brackets. You have to keep it far apart for maximum stability. However, many people use their chimneys to mount the antenna.
There are a few defects to this system, but it is simple to set up and use. Similarly, antennas for outdoor use often come with a base bracket for mounting on your home's roof. For example, a base mount can be used in the attic or on a wall, making it adaptable.
Use the proper length of coaxial wire for the job.
Then, connect the cable to the tower properly but not too firmly, since this might damage the waterproof outer coating.
Now, connect the antenna to your television or converter box. There should be no interference or signal leakage by using a coaxial cable that goes directly to your television. If possible, use a right-angle connection and avoid making severe curves in the coaxial wire.
You will need to drill holes in the roof and ceiling to let the cable pass through. Drilling should be done at a precise location. Don't run any wires through the drywall. You may seal the hole around the cable using silicone caulk in the right color once the cable has been threaded through the hole.
When you go to the television, you'll connect your coaxial cable to the rear panel's F connector input on either the converter box or the TV set.
After connecting the coaxial connection, just do a channel scan to get the channels you've received. You can compare them to the list from the signal report.
As a last resort, try re-scanning the antenna in a slightly different direction to receive more channels. In my opinion, it's the best way to get local channels with antenna.
Mounting an Indoor Antenna
HDTV antennas for indoor use might either be mounted on a wall like a painting or placed on a shelf close to your television set. In contrast, most new indoor antennas are intended to be mounted on a window, ideally facing the broadcast antenna.
It's best to put the antenna up as high as possible to avoid interference from nearby homes and buildings. You should attempt a different location if a window doesn't work; if that doesn't work, try a wall.
You might want a longer connection if your television and optimum reception location are too far away from the antenna.
Connect the amplifier's coaxial cable to the antenna.
You need to use a coaxial cable to connect the amplifier to television. A digital TV antenna should be installed without the need of any tools.
Make sure you have enough slack in the cable before connecting it to your TV or DVR. Screw it into place with a good deal of force.Now, your tuner should now be programmed to scan for channels.
It's now time to start scanning for available channels on your tuner. Following that, you might navigate through your high-definition television channels using your TV remote control.
How to Scan Local Channels With Antenna
HDTV over-the-air tuning might be a challenge. Look for a Tuning or Channel section in your streaming devices' Settings. If everything is working well, you can now choose Auto setting.
Thereafter, TV or DVR tuner or program guide will find out all the available channels. If necessary, organize all of the future programs in a grid for your convenience.
What Channels Can You Get With Antenna Tv
HD television from ABC, CBS, FOX, and NBC networks is available for free if you have an antenna. You'll also find networks like PBS, The CW and Buzzr in many parts of the country.
In certain cases, natural or man-made problems might cause problems. You should find a model with a built-in amplifier if you have trouble receiving signals in your home. But remember, overloading your tuner might result in a drop in the number of channels you can see.
A model without an amplifier could be a good starting point. Poor or no reception means you'll either receive a jerky or blurry image, or nothing at all, just darkness.
Tv Station Locator for Antenna
There is a color-coded list of channels that are available in your location when you use the TV Station Locator.
Colours vary from:
Green means that there is a clear and distinct signal. To get channels in the green spectrum, you will just need a normal indoor antenna.
Yellow indicates Moderate Signal Strength. The most of your channels are likely to be in the Yellow to Moderate Spectrum, which means an indoor antenna is unlikely to work effectively.
Orange represents Weak Signals. Indoor antennas aren't going to work for channels in the Orange to Weak range. If at all possible, an outdoor antenna is recommended in this situation.
Red represents No Signal. There is no signal whatsoever if you find yourself in the Red Spectrum. You would need an external antenna intended for rural regions if you live in these outer places.
This tool is quite useful if you're having difficulties picking up channels. It will also help you if you are thinking about disconnecting the cable connection and want to see what stations you can get.
An LED signal indicator will help you identify the most important area to receive signals for a more reliable connection.
Frequently Asked Question
Why can't I get local channels on my antenna?
Extremely weak signal is the main reason no to get local channels on the antenna. Make your internet connection stable to get local channels.
Can you get free local channels with an antenna?
Local broadcast television networks can be viewed over the air through a television antenna. In fact, today's antenna television provides a better image than cable television.
Why can't I get CBS on my antenna 2020?
Most of the time, your antenna won't be able to pick up a CBS signal. Several local stations shut down their analog transmitters, while others continued to broadcast on UHF digital channels. That's why signal reception was compromised.
Why is my antenna not picking up local channels?
The answer is your wires might be loose. No signal or a poor signal is probable if your wires are unsecured. That's why double-check all of your TV's and antenna's connections.
How many channels can I get with an antenna in my area?
Depending on where you live, TVs who use an antenna can receive up to 48 channels for free.
Parting Words
If you live in an urban or suburban area, buying an indoor or outdoor antenna is perhaps the easiest way to watch your local channels. For a relatively low price, you can get access to local channels airing in your region by just installing an antenna on your television.
I hope this post will help you to, how to get local channels with antenna. Even though you'll have to deal with possible signal disruptions, the various advantages of getting an antenna overshadows these issues.
Weekly Hot Posts 🔥