Are you tired of the existing coaxial cable connection for your Cox internet? Or are you moving to a new apartment that does not have a coaxial cable outlet, or are you just looking for alternatives to the traditional cable setup?  Whatever the reason is, you'll be glad there are several effective solutions available for your question about how to set up internet without coaxial cable Cox. In this guide, we are going to explore the best alternatives to connecting to the internet without using a coaxial cable, from DSL to fiber-optic and even mobile hotspot solutions. Let's dive in.
Does Coax Cable Matter for Internet?
Well, for using the internet at home through the router, a coax cable is a vital solution in terms of connectivity. The reasons are listed below.
Coax cable is designed to transmit high-frequency electrical signals with low signal loss.
It contains larger conductors, which ensure better and smoother data transfer.
Some coax cables are designed to match a certain high-bandwidth data transfer.
The dielectric insulation is thick enough to ensure effective support to generate the required electrostatic fields.
At present, most of the physical internet connection is dependent on the connectivity of the main device to the home.
Is It Possible to Set Up Internet without Coaxial Cable Box?
It is true that connecting to the internet with the help of a coaxial cable box is a very good solution to getting high-speed internet and consistent internet connectivity. But there are many alternatives that can provide the same outputs as this cable connection. Some of the prominent alternative internet connection solutions are connection via DSL using a telephone connection, mobile hotspots, fiber-optic connections, internet connection via satellite, and so on.
How to Set Up Internet without Coaxial Cable Cox?
For Cox Network, you can use all the earlier mentioned approaches to set up the internet except a satellite internet connection. Below are the details of the possible solutions.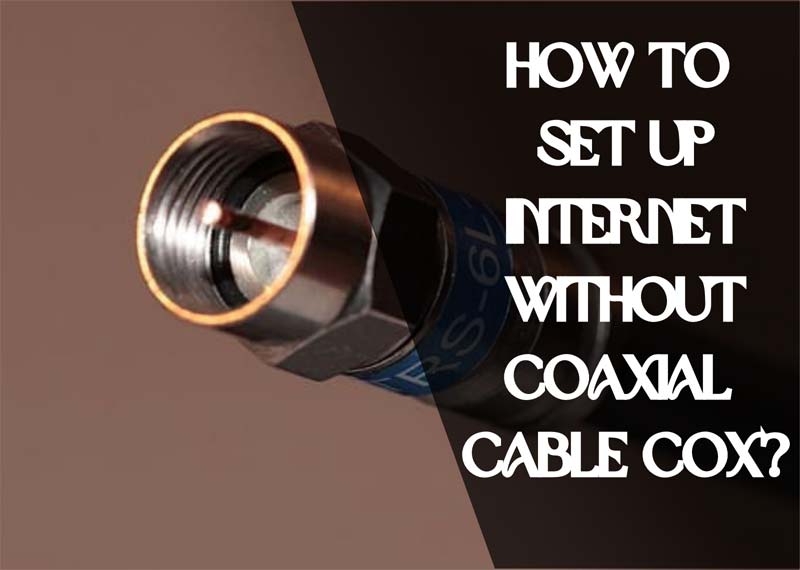 1. Using DSL
Use the regular telephone cable to connect the modem and telephone jack.
Connect the modem to the power source and switch it on.
Allow some time for the completion of the boot-up process.
Now use the ETH cord to connect the computer or TV to the modem (TEL port).
2. Using Fiber-optic
For Cox, it is called a panoramic WiFi gateway to use the fiber solution. In this case, the used ONT acts as a bridge device.
Install the ONT device.
To connect the Cox gateway and ONT, you can use a wall jack or a direct connection approach.
Now, power up the ONT; check that the power LED will become solid green.
Make sure the PON or BroadBand LED is also solid green.
Now use the given ETH cable to connect the ETH port of the device to the active wall jack.
Connect the wall jack's outlets to the in-house devices.
3. Using a Mobile Hotspot
Purchase a Cox mobile phone or install a Cox SIM on your existing phone.
Now, on your phone, go to the mobile hotspot option. And enable it.
It will open a screen with all the available Cox mobile hotspots with a location icon.
Just press the nearby location icon.
Now, you are connected to Cox Internet without using any coaxial cable.
Can any Cable Outlet be Used for Internet?
No, not every cable outlet can be used for the internet. While cable outlets and internet connections may look similar, they serve different purposes and have different specifications. Also, please note that not all cable outlets in your home may be wired for internet connections. It depends on the type of internet service you are using. However, even if the Internet service allows connection via cable outlets, the physical properties of the outlets must ensure high-speed data transfer.
Final Words
Setting up internet without a coaxial cable from Cox can be a challenging task, especially if you do not have technical knowledge and skills. However, it's not impossible. By using our guide on how to set up internet without coaxial cable Cox, you will be able to do that easily. Finally, we suggest you check with Cox customer care about the served internet criteria to find out whether it is workable or not without a coax cable connection.
People Also Ask
Do you need a coax cable for Cox?
It is better to use a coaxial cable for Cox, but it is not essential. Alternatively, you can use a connection via mobile hotspots, fiber-optic, etc.
Do I need a coaxial cable or Ethernet?
It depends on the user's needs. For advanced internet connections, using an Ethernet cable is a good option.
Do I need coax and fiber for the internet?
In general, you do not need both cables. Depending on the type of internet service provider requirement, you can choose between a coax and a fiber connection.
Is fiber optic better than coaxial?
Fiber optics is a more advanced connectivity solution. It is obviously better than the coaxial internet connection; it provides greater speed.
Is coax faster than WiFi?
In actuality, these two are not comparable. Each one has superior performance in terms of the type of internet service, devices, etc.