Can you spend some hours without WiFi? It's impossible, right? You will surely try as many possible tricks and tips to find out the reason for the WiFi outage. If you find that your router or modem is showing a green signal but you cannot access the internet, it is not only overwhelming but also makes you angry. In such a case, as an Eero user, you might have already decided to throw the device in the trash. Please keep patience; after reading this troubleshooting article, you will get the answer to why eero connected but no internet. Also, in the future, you can solve the issue yourself within minutes. And, regarding throwing the device, it is not logical at all. After all, eero has ushered in a new era of home Internet solutions.
Benefits of Eero
Here, we've listed some prominent advantages of this router.
The device is very small, causing no disturbance to the room's interior.
Provides a maximum 150 square foot area of coverage.
Fast speed and consistent connectivity.
Nearly zero drop-off.
Eero's speed touches 240 Mbps at 2.4 GHz, while the updated versions offer more speed.
Why Eero Connected but No Internet – Reasons & Solutions
So, your eero's LEDs are retaining WiFi signals, but you are not able to use the internet. Let's see the most possible reasons and solutions.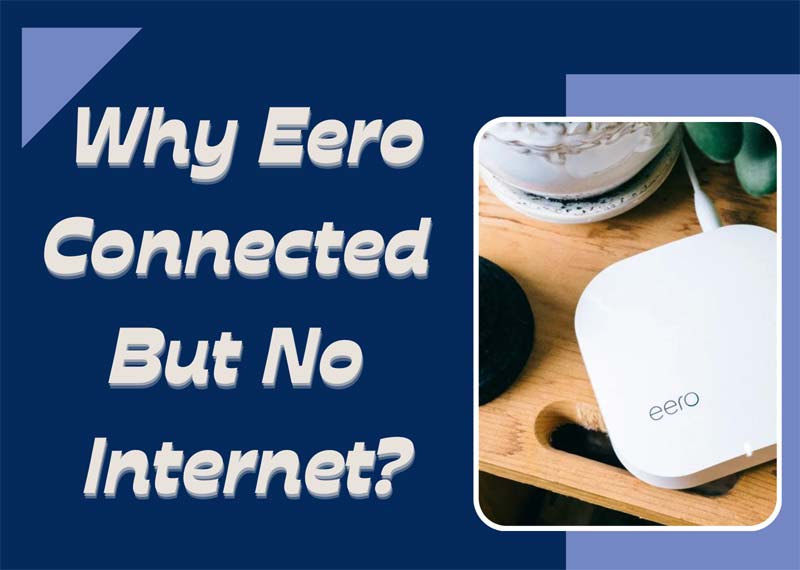 Read More:
1. Eero is Hanged
It is a very common issue for electronic devices. If your Eero is hanged, the possible reasons are an interface through nearby wireless devices (it can be even a wireless mouse, keyboard, speakers, etc.) or a mini power fault (the power went out for a millisecond). This issue can be resolved by a soft restart. The basic short-restart procedure is described below.
Disconnect the power supply to eero.
Leave it for 30 to 60 seconds.
Power up the eero.
You will see LEDs are blinking with lite-white.
Now, need to wait some more time till the lite-white turns to solid white color.
Your internet is now functioning.
2. Eero's Short-term Memory is Full
Overloaded short-term memory, which is generally known as cache, can disturb eero's functioning. In such a case, it is always better to reboot the device. To reboot eero, please follow the below step-wise guidelines.
Open the "Eero App."
Go to the "Settings" section.
Scroll down, and click on the "Advanced" button.
From the "Advanced" section, click on the "Reset" button.
Press the "Restart Network" button.
And confirm "Restart Network."
3. Issue with Modem
Due to a problem with the modem, sometimes eero cannot serve the internet while connected. In general, if your modem is not faulty, a simple restart can do the work. In technical literature, it is called "Power Cycle of Modem."
Disconnect your modem's power supply.
Wait for 1 minute.
Power up again.
If all the LEDs become "green," check your internet connection.
4. Fault in Eero-Modem Connection
As you know, eero and the modem need to be connected with a factory-made Ethernet cable for proper functioning. Any sort of physical displacement at connecting ports (connecting port of eero and modem) can make problems with internet coverage and circulation. The physical displacement can be caused by a number of things: the RJ45 connector's pin(s) is broken, the imperfect punching of pairs (the thin cables), the colored cables are damaged inside the RJ45, etc. The solutions are below.
Take the cable and connect other devices (other than the eero and modem) by using it. For example, connect your laptop or desktop to a printer. If the new connection doesn't work, the ETH cable is faulty. You need to replace it with a new one.
If there are no other devices, go to a nearby mobile or computer repair shop and ask them to test it. Here, the process is simple, and you can do it at home if you have the tester. It will be necessary to connect the ports of the tester. If the signal is green, the cable is OK. If the signal is red, you have to change it.
However, before attempting any of the above testing approaches, just disconnect the RJ45 from both sides (eero and modem) and wipe the ports and connectors on both sides. Eventually, dirt or rust on the pins can trigger total or partial disconnection.
5. Problem at Bridge Mode
Bridge mode in eero is designated to ensure compatibility with modems. Sometimes, without understanding its functionality or accidentally, you might switch off the bridge mode of the eero. As a result, you will have no internet access. To turn it on, follow the below steps:
Open the "Eero App."
Go to the "Settings" section.
Scroll down, and click on the "Advanced" button.
Prees on "DHCP & NAT."
Uncheck "Automatic," and check "Bridge."
Press the "Save" button.
You are good to go.
6. Problem in ISP-end
If there is any technical issue or error from your internet provider's side, you will not be able to use the internet, even though the eero is fully connected. So, after failing in all the above-mentioned resolution approaches, it is sure that there is no problem from your side. Now, call the ISP to inform the issue. They will send a technician or solve it remotely.
Pro Tip To Deal with This Issue
Eero is the most updated router solution. It not only ensures faster and more consistent internet spread but also offers prompt solutions to technical faults. We suggest you take advantage of this before even trying to identify the root cause.
Go to the "Eero App."
Tap on "Settings."
Go to the "Help" section.
Select the most relevant issues from the displaying options (usually there are four).
The system will do an automated checkup and provide you with a solution.
Read that and follow the solution.
Final Thoughts
Hoping that from now on you can identify and solve the issues related to eero connected but no internet. However, if you are in super need of internet and there is such an issue, we suggest you complete the job with the cellular internet (via SIM). Only after that, go for applying the above-listed solutions, as those require concentration.
Frequently Asked Question
What is the solution if eero is not connecting to the internet?
Go for a soft restart at first. If still not ok, then try all the mentioned approaches.
What is eero, a modem or router?
Eero is a router that should be connected to a modem via an ETH cable.
How many Mbps is eero?
Eero's speed touches 240 Mbps at 2.4 GHz, while the updated versions offer more speed. It can serve 600 Mbps at 5 GHz.