The introduction of Starlink internet service is considered a crucial step forward. It ensures high-speed and low-disrupted internet connectivity for people who are living in remote places; there are very few telephone towers, and an optical connection is not even imaginable. However, people who intend to use Starlink Internet face problems with the router's dependency on Ethernet connectivity, as the router only supports input through an ETH connector, and the Starling device does not offer such. But the company offers the solution as an additional product: an adapter that takes inputs from the Starlink device and provides output through an ETH cable (having an Ethernet connector).  Unfortunately, as with every product of SpaceX, this device is also very expensive, which directs people to find alternatives at a cheaper price. Here, we detail some quality and cheap Starlink Ethernet adapter alternative. Let's check those out.
What is Starlink Ethernet Adapter?
Starlink's ethernet adapter is a small piece of hardware that allows you to connect Starlink's satellite internet service to your home's WiFi setting. It has two connecting points. One end receives the signal for the Starlink satellite modem. And the other end delivers the received signal to the home router through Ethernet connectivity (an RJ45 cable with ETH connectors).
Without this adapter, you won't be able to get internet if your router only has an Ethernet input port. However, if your home router does not support USB input, then you are forced to use a direct connection from the Starlink modem to your using device like a computer, via a USB connection. That means you can use the internet on only one particular device.
Can You Use Any Ethernet Adapter for Starlink?
Technically, you can use every Ethernet adapter with the Starlink satellite modem. Here, the Ethernet adapter must be compatible with the modem's network settings. Still, we suggest you check the configuration and physical properties of the selected Ethernet adapter to ensure its compatibility with the Starlink modem. The reason behind this is that many Ethernet adapters are not optimized as per the RJ45 connector's color-code matching requirements.
What Ethernet Cable to Use with Starlink Router?
To answer this question, we would like to inform you that Starlink does not provide any routers. It provides a modem, which needs to connect via an Ethernet adapter with the home WiFi router. To connect the Ethernet adaptor, you need to use an Ethernet cable (also known as an RJ45 cable). However, there are various types of Ethernet cables available on the market. In this case, you should go for either CAT5e or CAT6 to ensure undisrupted and speedy connectivity.
List of Starlink Ethernet Adapter Alternative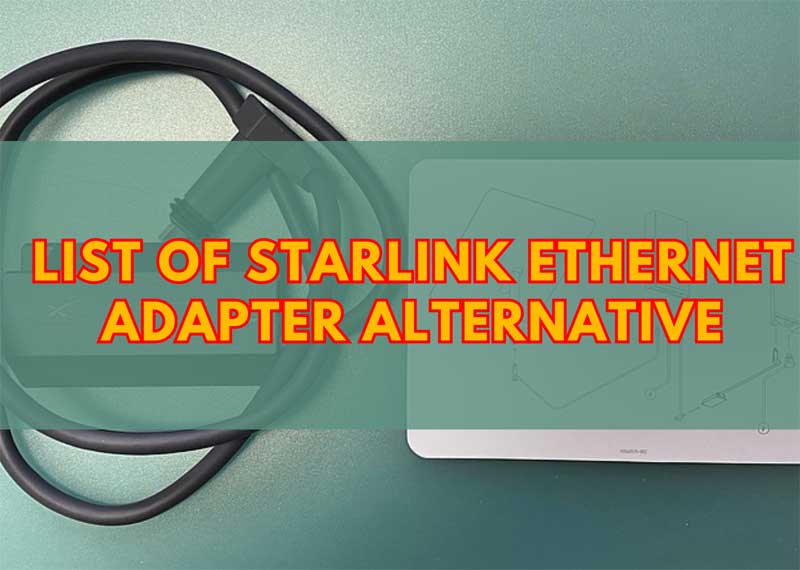 Below is a comprehensive list of Starlink Ethernet Adapter alternatives.
Anker USB-C Unibody Aluminum Portable 1-Gigabit Ethernet Port Network Adapter
com USB 3.0 to Gigabit Ethernet NIC Network Adapter
BENFEI USB to Ethernet Adapter
BrosTrend Ethernet to WiFi Adapter Converter
ScreenBeam Bonded MoCA 2.5 Network Adapter for Highest Speed Internet
CableCreation USB 3.0 to RJ45 Gigabit Ethernet Adapter
Dockteck 7-in-1 USB-C Hub with 4K 60Hz
UGREEN USB 3.0 to Ethernet Adapter
com USB 3.0 to Gigabit Ethernet NIC Network Adapter
procet USB C Ethernet Adapter RJ45 Gigabit Ethernet
And many more.
Is the Starlink Ethernet Adapter Gigabit?
As of November 2022, Starlink was not able to provide gigabit speed. At present, Starlink's official website says that their Ethernet adapter can handle gigabits. Unfortunately, many users report opposing experiences; they receive lower speed support from the adapter. Following this, in consideration of the practical scenario, you cannot expect Gigabit Ethernet to be supported by the Starlink Ethernet adapter.
If you are in great need of Gigabit Ethernet speeds on your home network, you should try an alternative solution like the Anker USB-C Unibody Aluminum Portable 1-Gigabit Ethernet Port Network Adapter, the CableCreation USB 3.0 to RJ45 Gigabit Ethernet Adapter, etc.  Please note that, even you use of this adapter won't allow you to get Gigabit speed as the Starlink's network is still under construction; not yet fully completed. But it will provide more speed than the original Starlink Ethernet adapter.
Final Thoughts
We hope that now you know what is the best Starlink Ethernet adapter alternative available on the market. You can rely on our list, but we still suggest you check each one's compatibility with your Starlink modem (as Starlink's devices and networks get frequent upgrades) to restrict the waste of money.
People Also Ask
What port speed is Starlink Ethernet adapter?
As per Starlink's official website, their Ethernet adapter's port speed is 1 GBPS. In actuality, it cannot come up with that speed. There are a lot of comments available online regarding this degraded issue of Starlink's accessories.
Does Starlink Ethernet adapter have PoE?
The Starlink Ethernet adapter does not have conventional PoE. They called it a non-standard version of PoE in which the orange-green pairs are positive and the blue-brown pairs are negative.
How much power does Starlink Ethernet Adapter use?
On an average, the power used by a Starlink Ethernet adapter ranges from 50 to 75 watts.