The monitor you're using, which is linked to your CPU through an HDMI to VGA adapter cable, has suddenly gone dark for no apparent reason. Nothing's working and now you're both stressed and enraged. It does occur often when working, and it is a nightmare for the programmers and gamers. What will you do now? Dump the monitor in the garbage and get on buying a new one? I don't think that's a good idea. Actually, we would love to say, "Don't worry". We're here to help you fix the adapter's issues using our expertise.
Fix HDMI to VGA Adapter Not Working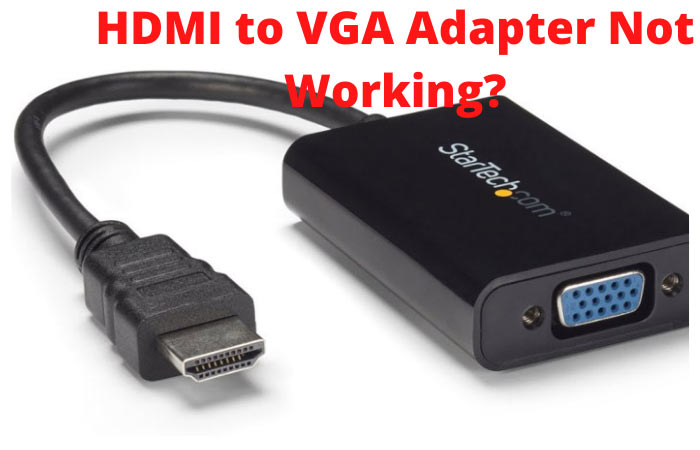 With these easy steps I am going to talk about, you'll be able to get your HDMI to VGA adapter working again. That being said, let's get this started.
What is HDMI to VGA Adapter Actually
Connecting devices with different types of displays that aren't otherwise compatible is now possible, thanks to the HDMI to VGA adapter. It is actually a type of directional device. This is where the digital signal is converted to an analog signal.
How HDMI to VGA Adapters Work
HDMI and VGA connections are distinct not just in appearance, but also in how they function. VGA is an outdated connection standard that can only transmit pictures to a display device such as a monitor.
In comparison, HDMI is a more contemporary option that is now being actively used and modernized. Since it is a digital video interface, it is capable of recreating pictures in higher resolution. And also, it has the ability to send audio at the same time. The adapter or converter enables you to connect to the appropriate connection. Moreover, it also ensures that the picture and sound are sent correctly.
Why Is My Hdmi to Vga Adapter Not Working?
These may be some of the reasons why your screen has gone black.
Pixel and Refresh rate Misconfiguration
Display setting not chosen
Using HDMI to VGA Cable
Lack of power
Long VGA cable.
VGA port not selected
HDMI to VGA adapter using as VGA to HDMI adapter. And vice versa.
Overriding the resolution restriction using an HDMI to VGA adaptor.
You're using an adapter that wasn't designed for your needs.
Fixing Hdmi to Vga Adapter Not Working
Here are some ways you can check and recheck and fix hdmi to vga Adapter Not Working without any professional help.
Learn More
A Quick Check of the Power Connection to the Monitor
This is likely to occur if your main power line is loose in the electrical socket. And if it's hanging, you can bet it will happen! Please make use of an electrical socket with a tight-fitting cable to avoid damaging your device.
Change the Windows Screen Resolution and Refresh Rate
Misconfiguration of the monitor's resolution and refresh rate is a major problem. Suppose you have a 1980x720p resolution and 60hz refresh rate external monitor. And you're transmitting a signal with a resolution of 1980x1080p and a refresh rate of 60Hz.
It is obvious that it will not function on a secondary or external screen. It's because your input screen resolution exceeds the capabilities of your external display support. Your primary screen's resolution will have to be lowered in order to create a strong connection between the two monitors.
To use this technique, you'll need a digitally connected monitor, television, or laptop to plug into your system unit. You have to adjust this manually in the operating system since many older monitors don't allow functioning at a higher resolution.
Windows has built-in controls for adjusting the screen resolution. All you have to do is follow the guidelines listed below:
Go to "Control Panel" under "Starts" and open it.
To proceed, just click on the button. "Screen". In order to go to the menu where you may configure things.
Select "Adjust screen resolution" from the option on the left.
Move the slider to the appropriate setting and click "Apply" in the relevant pop-up box.
Consult your monitor's handbook or the company's website to find out what the maximum resolution is.
Make Sure It's an Adapter, Not a Cable
An HDMI to VGA cable, not an HDMI to VGA converter, is required for this to function. There are some people selling HDMI to VGA cables on the internet since they are less than HDMI to VGA adapters.
HDMI and VGA are on different worlds electrically and technologically. It is not easily possible to simply switch from HDMI to VGA using a single piece of wire. Make sure it's a connector, not a cable.
If it's simply a wire, take it back to the store where you bought it! Try another display if nothing is stated, and check the graphics settings.
Select the Appropriate Adapter
A wide range of HDMI to VGA converters can be found on the internet. Moreover, the devices supported by each converter are included in the description. Make sure your adapter works with the devices you want to connect it to before you buy one. You're going to make a connection, right? So, this little detail can be a big factor. The connection will fail and you'll be left without a working network if the adapter isn't right for the connection.
Note: Salespeople often talk about the benefits of pricey HDMI. Actually, there isn't really any difference.
Power Restart
As a laptop user, you can always do a hard reboot by holding down the power button. Just ensure that the battery is unplugged and the AC power adapter is removed. Now press and hold the power button for 10 to 15 seconds to complete the process.
Troubleshooting
The following instructions will work on any version of Windows.
Press the Windows logo key + R to bring up the Run dialog box.
Type access in the Run dialog box and press Enter.
In the Control Panel search box, enter the Problem solver and then click Troubleshooting.
The new browser will open with a left-panel menu.
Select Everything from the menu that appears.
Select Hardware and devices from the drop-down menu that appears.
Update Graphics Driver
You'll have to update the graphics driver on your laptop or desktop computer if it is available. To do this,
Open Device Manager and go to Display Adapters
Then click Integrated Graphics
Choose the Update Driver from the menu that appears.
Here, you have the option of having your graphic driver updated automatically or manually through the internet.
Change the Faulty Cable
If you are unable to complete any of the above procedures, you are dealing with a faulty adapter. That means it's time for a change.
Because the VGA is analog, no audio can be sent or received via it. Alternatively, you can use HDMI as a digital audio connection to transmit high-quality sound.
However, if the signal is coming from a VGA adapter, you will only be able to hear sound through your TV's speakers. In addition, the kind of VGA connection used to divide connectors into genders is significant different.
It's best if you know what kind of connection your VGA has before making a choice.
For Specific Devices
Let's get into some specific devices.
PS4
When connecting your PS4 to external screens using the HDMI to VGA adapter, keep these things in mind:
The PS4 video stream is high-resolution, so turn on your converter. And, as previously said, the greater the resolution of the video, the more power you'll require. Connect your converter to a power source using the micro-USB cord.
Because the VGA doesn't understand HDCP, you must deactivate it on the PS4. As a result, the video signal will be lost. Streaming services such as Netflix, Plex, and others won't work if HDCP is disabled on your PS4. But, this is not a problem; HDCP can be enabled again. Still, in order to play games on your PS4, you must turn off HDCP.
Mac mini and MacBook
Non-Apple HDMI to VGA converters do function on the Mac mini and MacBook, but not really for very long. It's not going to be a wise financial decision. Instead of using a USB-C to VGA adapter, I recommend purchasing an Apple Mini DisplayPort converter instead. You have a choice of ports to use, so you may pick and choose amongst them.
Also on the MacBook, if your connection isn't working, you can try resetting the PRAM and SMC. And then just plug your device back in. These kinds of things almost always work.
Audio
Possibly, you have connected your secondary or external monitor to the laptop. But you are still not hearing any sound from it. What will you do?
If you're using a computer, use your right mouse button to choose the speaker icon on your taskbar. Other options will be shown in a new window.
You'll have to choose one of them to use as a playback device. Then choose the output device from the context menu by selecting it with the right mouse button. Also, make it the default setting.
If you don't have access to a laptop, another alternative exists. With an HDMI to VGA converter, you can get the audio. It's also possible to get audio out of the 3.5 mm jack audio output port. You can also attach an external speaker to this port.
Summing Up
Like you, many monitor users have experienced issues with their HDMI to VGA adapter. The sudden blackness of the screen might have angered them as much as you. You must accept the reality that you are using electrical devices that can have problems.
If you've followed the steps correctly, you should already have the desired result. We always recommend that professionals handle this kind of work. However, with a basic understanding of the HDMI to VGA adapter's capabilities, anybody can do most of these tasks.
Weekly Hot Posts 🔥