Remember, back in the days, when cell phones were not even invented and every household had a landline? Unwanted calls were a really common occurrence back then, and someone always had to answer them to find out who was calling. For that reason, the ability to block unwanted phone calls is one of the most beneficial features of modern land phones. However, it's possible that you could accidentally put a phone number on your blocked list that you didn't want to. Or, perhaps you have changed your mind and now wish to unblock someone on your list.
Unblock Phone Number On Landline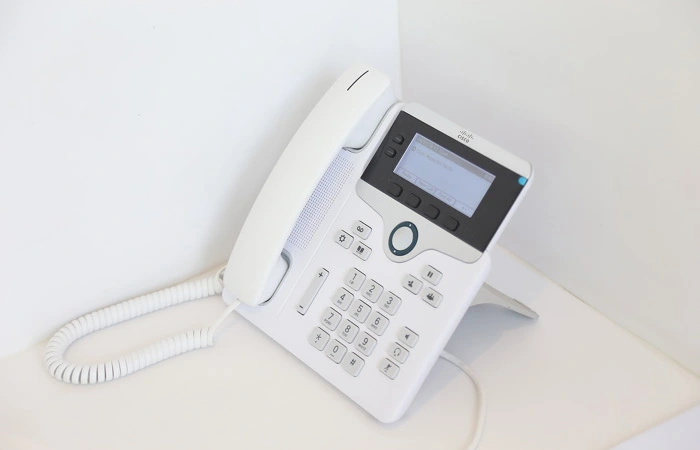 Would you like to unblock blocked phone numbers on landline? That's why we've come up with this guide about how to unblock a phone number on a landline. Let's get into this.
Why Do People Block Calls on Landline?
You may want to block specific phone numbers from landline due to several reasons like, you are receiving unwanted calls from strangers, salesmen, or people with whom you do not want to talk, and you should notify the authorities. Simply add their phone numbers to a blocked call list, and when they call, will hear a busy tone before the connection is terminated. This happens whenever the digits call your landline phone number.
In a nutshell, the call blocking feature is a great addition to modern smartphone and land phones, making your life a lot easier. The modern landline removes the need for individuals to manually end calls since it does it automatically and without bothering you with ringing sounds.
Turn Off Call Blocking On Per-call
This is a temporary way to unblock the number before every call. This way the person with the number won't be able to call you back.
Step 1
At first, from your phone dial *82. If you have a per-call blocking service from your telecom operator, this is a universal code you may use to unblock a phone number.
Step 2
Now dial the person's mobile number that you wish to unblock. Once you've input the unblocking short code, you may contact your party normally, then he'll be able to see your number on his caller ID.
Step 3
If needed, repeat the process. Because the *82 universal code is just a temporary method of revealing your phone number, you'll have to input it each time you want to unblock a call. An alternative is selective blocking, which lets you just display your phone number to certain folks.
If you want to have selective blocking, dial *67. This prevents your number from appearing to the person you're speaking with. You can easily unblock your phone by just hanging up.
You May Also Like:
Permanent Unblocking
This unblocking technique is permanent, and it is probably the most effective method available nowadays. If you want to permanently unblock any number that you intended to remain hidden from, just contact your telecom service provider.
Make contact with your service provider.
Ask a customer care representative about removing per-line blocking on any lines that you wish to be recognized by the people to whom you are calling.
Also, ask about any fees connected with terminating the blocking service.
How to Unblock Number on Suddenlink Home Phone
While using the Suddenlink home phone, you may be unaware of all of the amazing features that are offered to you from time to time. Just so you know, Suddenlink has one of the things that every phone user seeks is the ability to block certain phone numbers in order to prevent unwanted calls.
Blocking Random Numbers And Then Unblocking
To turn off your blocking option, all you have to do is dial *87 on your phone. Be mindful of the limitation of a maximum of 10 numbers being blocked at a time. The presence or absence of a confirmation tone will inform you if the anonymous number rejection feature is on or disabled.
Blocking Specific Calls And Then Unblocking
To unblock the number, press * once, then dial the necessary number and press * one more to complete the process. Call 08* if you want to unblock all the blocked numbers on your Suddenlink home phone at once. In addition, dial 09* to delete private entries.
How To Unblock A Blocked Call On A Panasonic Phone
All customers seem delighted with the new function that enables them to prevent nuisance calls from their Panasonic landline.
If you have a Panasonic landline phone and this occurs to you, you may fix the situation by following the steps outlined below.
Get access to your list of blocked phone numbers. Navigate to your main menu and then scroll down to the blocked phone numbers that have been displayed. Once you have identified the restricted number, use the Enter button or key to get access to it.
Continue to scroll down until you reach the blocked number that you want to unblock.
Choose the blocked number you want to unblock. Then click the X to remove it from the list of blocked numbers.
There is another method for unblocking a number that is associated with Panasonic Landline. Here are the measures to guarantee that you may continue to receive calls from that phone number without experiencing any difficulties.
First, tap the menu button on your Panasonic landline phone. After that, press the # key.
On the phone's keypad, dial 217 to access the menu of blocked numbers on your phone.
Using the Down Arrows on your keypad, scroll to the number you want to unblock and press Enter.
To remove a phone number from the blocked call list, use the erase/delete button. If you wish to confirm your choice or action, choose yes.
Press the OK button
You can click the off button now to return.
How To Unblock A Number On An At&t Phone
AT&T's call-blocking program allows users to block certain phone numbers from calling them. The user dials a unique access number, after which he or she enters the block using the phone's keypad. A user can unblock the number by selecting it from the same menu as when the number was blocked in the first place.
To activate the selective call rejection system on a touch-tone phone, dial the number "*60".
To unblock a phone number, use the "*" button.
Dial the phone number you want to unblock from your phone.
To confirm that you wish to unblock the phone number, press the "#" key.
How To Unblock A Number On Vtech Landline
Call blocking software works by automatically preventing telemarketing and robocalls on your landline before they have the opportunity to disrupt your daily routine. If you have a Caller ID service, your phone may block calls from up to 20 particular phone numbers if you have subscribed to it. This is called the BLOCK LIST.
You may use this page to locate the number in your block list and unblock it.
First, scroll to the block list then press.
Press Select to choose review
Scroll to find the number you want to unblock.
Then Press Delete and press select to delete it. Now, the number is unblocked, permanently.
Summing Up
In this article, we've covered the basics of how to unblock a phone number on a landline. And also, we have compiled a list of additional potential methods to unblock in particular phone providers that you may be interested in.
I hope you've been able to find out how to unblock a number on your home phone system by now. You can now block anybody you want without having to care about the future.
FAQ- Frequently Asked Question
Q1. How Do You Permanently Block A Phone Number?
You have to call the cell carrier. They will block a number for you. Tap the I next and scroll down and tap block.
Q2. What Is The Number For Bt Call Blocking?
08005875252 is the BT call blocking. You can off them by dialing this number from the landline you are receiving them on.
Q3. How Do I Stop Nuisance Calls?
To off the nuisance calls you should register free with Telephone Preference Service (TPS). They will add your number to their list, in order that sales and marketing calls can't disturb you.
Q4. Is There A Spam Blocker For Landlines?
CPR's V5000 Call Blocker is the latest landline call-blocking technology that can control your privacy. This call blocker can block all scam calls, robocalls, insurance calls, and political calls.
Q5. Can Someone Access My Phone By Calling Me?
Yes, it is possible to access your phone with one simple call. They can also access your live SMS by a call.