These days, the use of cell phones among senior citizens has increased. Mostly they use cell phones to stay connected with their family, doctors, and news. But most seniors aren't aware of the special cell phone offers which are available. Did you know that the government provides free cell phones for seniors and disabled? Consequently, they have to pay more than their budget for calls, messages, and data. Or they just can't find their suitable offers.  That's why it's a question to the seniors or their family members how to get free cell phone plans for seniors.
Get Free Cell Phone Plans for Seniors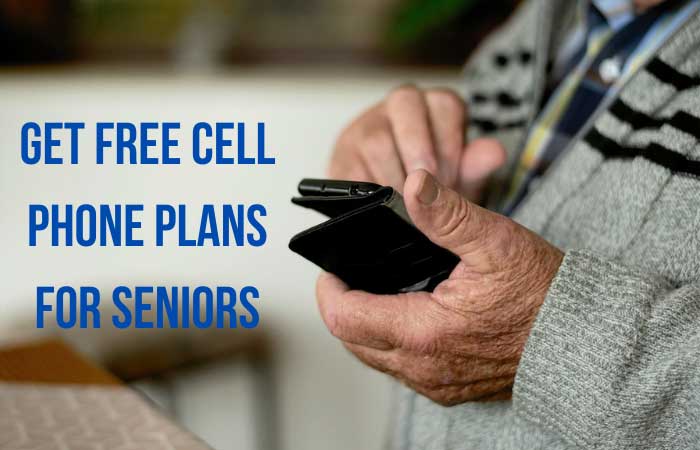 To ease this matter we'll mention numerous names of service providers and how to be eligible for them. This article will also support you to save some money while using any telecom services. It's noted that most of the service providers are linked with the government lifeline assistant program.
About Lifeline Assistant Program and its Initiatives
The lifeline assistance program is an offer from FCC (Federal Communications Commission). Many providers have chosen this program to provide the best phone plans for seniors. This, It's the best option for you to look for the best free phones for seniors.
It has options for low-income subscribers. Low-income subscribers can have a $9.25 monthly discount on service. Besides, it also gives $34.25 monthly discounts to the residents who live in the tribal area. Subscribers are eligible for these great discounts on wired or wireless services, but no subscriber is eligible to get a discount on both services equally.
For enrollment in this program, you're required to use the line at least once a month.  Aforesaid words are the basic information about the Lifeline Assistance program. Now it's time to know the processes for application.
You May Also Like
How to Get Free Cell Phone Plans for Seniors?
1. Government Lifeline Program
There are few policies to be qualified for the LifeLine program. 1st requirement is your income should be equal to or under 135% of the Federal Poverty Guidance. Besides, you can take part in the following programs if you're unable to meet 1st requirement:
 The supplemental nutrition assistance program
Medicaid
Federal public housing assistance
Supplemental Security income
Tribal programs
Veterans and survivor's pension benefit
Visit Lifeline's official website to apply for this program. You can also apply on the form and visit your nearest FCC office. Printouts are allowed to take out by the National Verifier online portal.  You can also simply visit the local Lifeline service provider store for the application.
2. Mobile Virtual Network Operators (MVNOs)
MVNOs are wireless service providers that depend on the networks of the major providers like Sprint, AT&T, T-Mobile, and Verizon to deliver mobile networks to their customers at significantly lower prices. MVNOs are suitable for users who do not require the most recent smartphones or the most complete call, text, and service plans.
One of the most well-known MVNOs worth looking at is FreedomPop. Here's how FreedomPop tends to work: A customer will buy a smartphone at a reduced rate from FreedomPop or the customer can also use their smartphone if it is eligible. In conclusion, they can cell phone services for $0 with no agreements.
FreedomPop free basic monthly plan includes:
Talk time of 200 minutes.
500 text messages.
500 MB of data with a nationwide 4G LTE network.
If you already have a device that you want to use, contact the provider to determine if it is suitable for your plan. Many of the electronics are second hand or restored, allowing you discounts of up to 50% off.
More MVNOs
Here are a few other operators where users can find low-cost, no-agreement plans:
Republic Wireless
Virgin Mobile
Credo Mobile
Boost Mobile
Ting
3. Phone Plans Designed for Seniors
Some wireless network operators offer mobile data plans customized exclusively to seniors who use their phones less likely than younger generations. Here are a few samples of plans that were available at the time this article was published:
T-Mobile Unlimited:  These plans include 2 lines for $70 per month with unlimited text, voice, and LTE data.
AT&T Senior Nation Plan: For $29.99 per month, customers get 200 anytime minutes, 500 night and weekend minutes, and unlimited mobile-to-mobile minutes.
GreatCall: Plans start at 200 minutes per month for $14.99 per month, with unlimited texting and data add-ons for seniors citizens.
4. Switching Service Providers
Many wireless network operators will receive free phone or free services (like mobile data) for switching to their company from another provider.
Here are some other examples of offers that were available at the time this blog was published:
Free phones from Cricket Wireless for Seniors.
Free cell phones from Metro by T-Mobile.
Sprint offers a year of free unlimited data.
List of the Best Free Cell Phone Plan Providers for Seniors
Lifeline is a program offered by FCC, it's not the actual service provider. Actual Service Providers are individuals. Here are the names of popular services providers with their plans in the table:
Top 8 Best Free Cell Phone Plan Providers for Seniors
Here are details about the most used phone plan providers for seniors according to benefits.
1. Q Link Wireless
One of the used fastest tech companies in the USA is Q Link Wireless. It's mostly popular because of unlimited minutes, messages as well as monthly 3GB data. Though alluring unlimited data plans aren't available in every area of the country. You have to ensure availability online.
Q link also offers voice mail and caller ID features for their subscribers. It's like the icing on the cake. You won't need to sign a contract before subscribing to it. That's why anyone can start or terminate the plan without any hesitation. You can also bring your phone if you're willing to.
This plan is available in most states of the country. Thus it's very simple to know the availability of this plan by inputting Zipcode in your PinCode. Besides, its unlimited minutes and messages made this plan more beneficial for the seniors.
Advantages

Unlimited message and talk time
It Permits you to bring your phone
It Offers extra features
Network coverage is wider than other services.
Disadvantage

Data facilities are limited.
2. Safelink Wireless
After Q Link, Safelink Wireless is another option for seniors for phone services and smartphones for free. This plan provides subscribers 350 minutes of talk time, unlimited messages and 3GB of data. 4G LTE connectivity made the network coverage faster. For that your browsing speed is excellent.
This plan also provides other additions like  3-way calling, caller ID and voicemail, etc. Most importantly, you'll get a sim card for free. That's why this plan is very user-friendly. Its network reception is very strong due to nationwide coverage by well-known carriers. Thus, this Safelink is very suitable for the best coverage seekers.
Advantages
Free Sim cards for customers.
Impressive network coverage.
Excess features on offer.
You can have unlimited texts.
Disadvantage

Limited data and talk time.
3. Assurance Wireless 
Assurance Wireless is a subsidiary company. It's a part of Virgin Mobile Corporation.  This plan is a little bit budget-friendly; it provides free cell phone use along with free cell phones.  In this offer, you can get up to 350 minutes of talk time, unlimited messages and 2GB of data with moderate but comprehensive coverage.  Though it's available throughout the country, you'll still need to enter a Zip Code to ensure its availability.
Its simple and easy features made the offer lucrative.
Advantages
Comprehensive coverage
Unlimited messages
Dependable company
Disadvantage
Limited Data and talk time.
4.American Assistant 
American assistant is also another option for seniors for phone services. In this offer, you are available for 500 voice calls and 500 messages monthly. This offer might not provide you with enough call time but its other features are way too outstanding to avoid. This offer also includes caller ID, 3-way calling, voicemail, and call-waiting.
Unfortunately, this offer is only available in ten states. But these states are most common, so there won't be any problem availing of this offer. This plan doesn't include any data, therefore you'll need to pay extra money on data.
Advantages
Additional features on offer.
500 messages along with 500 minutes of talk time.
Offer is accessible in 10 states.
Disadvantages
5. Assist Wireless
Assist Wireless is a service provider which offers plans for seniors in 4 states of the country. The states are Arkansas, Maryland, Oklahoma and Missouri.  These areas include vast rural areas, therefore there are some special offers for it. On this service provider, You can send an application for a free cell phone if any cell phone is needed. If you want then You can bring your device as well.
In here you're offered $15 credits on call and message plans. In this offer, 1GB of data is also included. Therefore your minimal internet usage won't cost you anything. This system is credit-based and it doesn't offer you a wider range of features. But it's affordable for those who have a tough budget and limited choices.
Advantages
Offers Free Smartphone
Provides 1GB of data for free
Offers $15 credit.
Disadvantages
Not available except in 4 states
6. Blue Jay Wireless
Because of its lucrative features, Blue Jay Wireless is suitable for seniors. Blue Jay Wireless provides 500 minutes of calls along with unlimited messages. It also offers free mobile phones to subscribers. It's only available in the locality of California.
In this offer data isn't included, therefore you have to pay $26 monthly for 5 GB internet.  But you're required to pay $3.6 monthly if you reside in California. Though it offers great deals in California only, you're still eligible for the offer in 17 states of the country including Puerto Rico.
If you liked their plans on data and talk time then you can simply apply on their official website.
Advantages
Unlimited messages
Accessibility in 17 states
Simple application process
Disadvantage
7. EnTouch Wireless
enTouch is another great option for seniors because of the free cell phone along with monthly 500-minute calls and 100 messages. Luckily customers are eligible for this offer from 20 states of the country. Though free data has differed by state.
Residents of California are eligible for a monthly 500MB of data. But people from outside of California can only get 10MB along with usual calls and messages. Therefore you have to understand that your data is dependent on where you live.
You'll get better deals if you live on the westerns side of the country. You can easily get joined with this provider since you're getting everything free, depending on your living place.
Advantages
500 minutes of talk time.
Availability of 20 States.
Special offers for Tribals.
Disadvantage

8. Feelsafe Wireless
Feelsafe Wireless service provider is especially suitable for low-income families.  Because Feelsafe has cell phones along with cell phone plans for free to those families. Luckily this service provider is available in every state of the US. Your offers differ by state. That's why you're required to input your Zip Code to know the offers.
However, its broad coverage and reliability made the plan great.
Advantages
Free cell phones on offer
Comprehensive coverage
Free cell phone plans on offer
Disadvantage
Offers are varied from one state to another.
Conclusion
Usually, senior people don't require more than simple plans. The Lifeline assistant program made the way much easier to find suitable phone plans for seniors. But due to the variation of offers, prices, and states, it's a little bit tricky to find out the exact plan.
Sometimes lackings enough information can also lead to not finding a suitable phone plan. Thus the aforesaid article is detailed enough to provide information about senior phone plans. Hopefully, this will assist you to find exact plans for seniors. If you think that information isn't enough, you can also simply search on the internet by using mentioned service providers' names.