A new initiative by the Federal Communications Commission (FCC) called Emergency Broadband Benefit is intended to help individuals and families that are having trouble paying for internet access due to the COVID-19 outbreak. These benefits will provide access to jobs, healthcare services, virtual classrooms, and more for eligible households. To get this service, firstly you need to know how to qualify for the Assurance Wireless EBB program.
The Federal Communications Commission (FCC) runs the limited-time Emergency Broadband Benefit (EBB) program, which offers savings of up to $50 on monthly broadband Internet access subscriptions (or up to $75 per qualifying home in Tribal territory).
EBB services are dependent on several factors, including customer eligibility, provider engagement, product accessibility, and FCC/Universal Service Administrative Company (USAC) approval. The Assurance Wireless EBB program can only be used by one qualifying home at a time and cannot be transferred to another family. However, Members are free to switch between EBB participating suppliers whenever they like.
Assurance Wireless EBB Program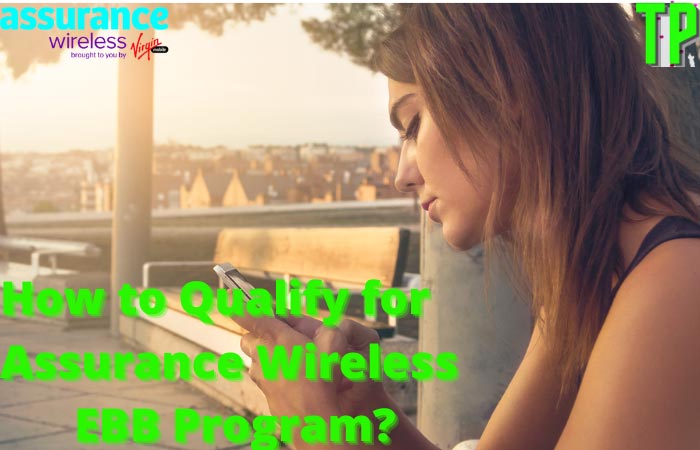 About Assurance Wireless EBB
As of December 31, 2021, the Affordable Connectivity Program gradually replaced Emergency Broadband Benefits. Family members can only qualify for one discount on a monthly service and one discount on a device under the Emergency Broadband Benefit. Financial assistance for Assurance Wireless phone service is provided by the government's Lifeline Assistance program. In addition to subsidized Lifeline and EBB plans, the company offers mobile services to qualified consumers.
Households that qualify for Lifeline or the EBB program can receive a free Lifeline smartphone as well as a free monthly mobile phone plan with unlimited talk, text, and data usage and 10 GB of hotspot space. Additionally, households that qualify for the EBB may receive a one-time discount of up to $100 for a connected device such as a tablet.
Learn More:
Assurance Wireless Ensures Both the Lifeline and Emergency Broadband Benefits
The FCC's Lifeline program is a long-term government aid initiative with the objective of making communication services for low-income households more accessible to more people. Lifeline carriers give qualifying low-income households discounts on monthly cell phone service and some even give out free cell phones.
Why Choose Assurance Wireless?
Several fantastic benefits that come with Assurance Wireless phone service also make signing up for the provider's services a wise decision. The advantages include:
Free telephone service each month
limitless free texting
Free minutes for as long as possible (Lifeline) or at least 1000 (EBB).
Data allowances of up to 4.5 GB (Lifeline) or 10 GB (EBB) are free.
No cost for a smartphone
A free voicemail box
Free Caller ID Free Call Waiting
Free 911 service
Unlimited calls to 211 indefinitely
Free customer support calls
Maintaining your contact information, such as your home or mobile phone number
Consumers with Lifeline/EBB are eligible for all of the Assurance Wireless phone discounts.
How Do You Qualify for Assurance Wireless EBB Program?
The basis on the following terms should be fulfilled to qualify for the Assurance Wireless EBB Program.
Depends on Income
A household must have a gross yearly household income of 135 percent or less of the federal poverty level to qualify.
Depending on the Program
A member of the household takes part in one or more welfare programs
The Medical aid Supplemental Nutrition Assistance Lifeline Program (SNAP)
Additional Security Income
government funding for public housing
Pension for Survivors and Veterans
Temporary Assistance for Needy Families administered on a tribal basis (TANF)
How to Sign Up for the Emergency Broadband Benefit?
To get this service, you need to do registration with the EBB program. There are some rules for signing up. The steps are given below.
1. Get Ready With the Necessary Paperwork
You must provide one of the following documents to prove your eligibility: a benefit award letter or statement, an approval letter, a current income statement from your employer, or a pay stub. Two documents—one displaying your changed income and the other your present income—are required to prove a significant loss of revenue.
2. Apply right away through one of these partnering broadband providers (online through the consumer portal or by completing a paper application).
The Emergency Broadband Benefit application process is as simple as 1, 2, and 3.
1. Check to See Whether You Are Eligible
Determine your eligibility for the EBB Program by completing the National Verifier eligibility form.
2. Application for National Verifier
Join now
If you're a new customer, call us to schedule your installation after choosing your plan.
Buy Your ebb Internet.
3. Continue to Reduce Your Bill
Verify usage by selecting "Yes" in response to an automated outreach asking if you are making use of the service.
Check your email within 48 hours after applying for a status update after you've finished all three processes.
Assurance Compatible Phones
After Sprint and T-Mobile merged, Assurance Wireless began offering free phone service under the Virgin Mobile USA banner and now offers wireless service through the T-Mobile network.
What Services Does Assurance Wireless Provide?
Get a free Lifeline smartphone
Hotspot data worth 10 GB, unlimited talk and text
A one-time discount of up to $100 may also be available to EBB-eligible households for a connected device such as an assurance wireless ebb tablet.
The Emergency Broadband Benefit Program is a federal initiative to assist low- and moderate-income households by providing them with internet connectivity. Many pupils from this category of household experience hardship due to having no internet access. Due to their inability to maintain a connection, the students are unable to turn in assignments or participate in online classes.
In order to initiate an emergency broadband benefit program for those who cannot afford internet services, the government has granted Federal Communication Funding (FCC). In order to assist low-income families to gain access to the internet, the government is taking this initiative. Participants from low-income families are eligible to participate.
Frequently Asked Questions
Is EBB the same as a lifeline?
Yes, this is a lifeline service provider. If you meet the requirements for assurance ebb, you are eligible for the full range of lifeline program benefits. Low-income people can now afford phone and internet service through the Affordable Connectivity Program and the Lifeline program.
What carrier is Assurance Wireless?
Through the government Lifeline Assistance Program and the Affordable Connectivity Program, Assurance Wireless, a carrier owned by T-Mobile, provides free phone service (ACP). It offers qualified customers one free government-subsidized phone and service plan per household.
Is the EBB program legit?
Yes. Assurance Wireless offers free government-subsidized phones and plans to qualified customers owned by T-Mobile. EBB Program benefits can be obtained from any participating provider of your choice, and you can switch providers at any time.
Can I switch my ebb to another carrier?
You must submit this Emergency Broadband Benefit transfer form in order to switch to T-Mobile from your current enrollment in the government's Emergency Broadband Benefit ("EBB").
Only those who have already registered, have had their enrollment verified by the National Verifier, and are currently receiving EBB benefits from another service provider should submit this Emergency Broadband Benefit Transfer Form.
Disclosures
I think you are now aware about on how to qualify for assurance wireless EBB program. With the Emergency Broadband Benefit (EBB) Program, the Federal Communications Commission (FCC) offers a temporary reduction in broadband
Internet subscription rates. However, the EBB monthly service discount cannot be transferred. One service discount is permitted per qualified home per month. You will pay the undiscounted rate available at that time, plus any applicable fees and taxes when we or the FCC formally announce the termination of the EBB Program.