In contemporary, the internet is something that you cannot ignore. Many of our daily activities are now vitally dependent on the internet. Unfortunately, if you are going through financial hardship, the prices of such device might be costly for you. To ensure you are able to use the internet during the challenging time, the federal government is providing free government hotspot device under the Lifeline and ACP programs. To deal with the application process, many people face complication and stop proceeding. To make the whole process easy, we elaborate on every aspect of the process.
Reasons You Should Get a Free Government Hotspot Device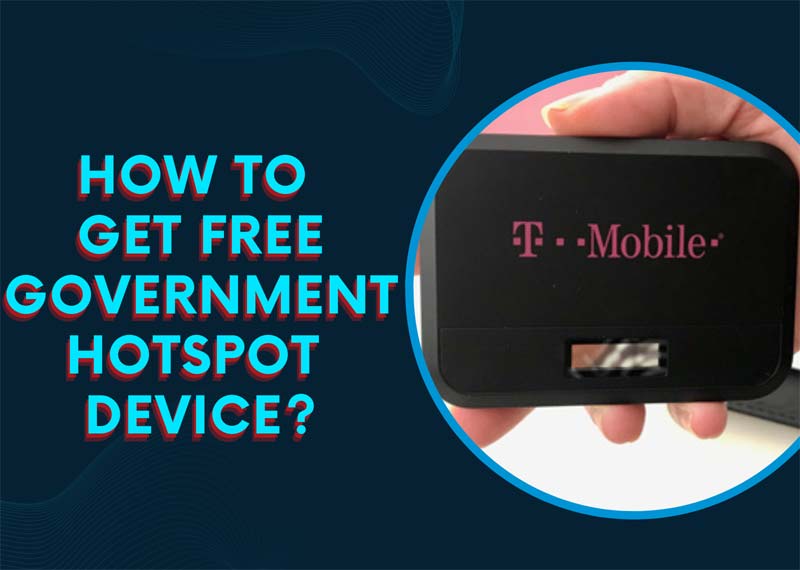 Well, the prime reason for getting a free hotspot device is your inability to afford to purchase a router or modem, along with the following:
Your household has many devices.
Your job, study, or business is crucially dependent on internet connectivity.
The economic hardship has forced you to cut the phone bill.
This opportunity allows you to get emergency support through the internet.
As you cannot afford internet connectivity, this will substantially assist you in applying for jobs and finding business opportunities.
You won't face difficulties getting access to entertaining content, which is crucial for mental well-being in the economically challenging phase of life.
Check Eligibility to Get a Free Government Hotspot Device
Below are the two easiest application procedures.
1. Participated in a Government Aid Program
You can get the free hotspot device from the government if you have enrolled in any of the programs listed below.
Supplemental Nutrition Assistance Program (SNAP)
Supplemental Security Income (SSI)
Medicaid
Have received a Federal Pell Grant within the current award year.
Veterans' Pension and Survivors' Benefits
Free and reduced-price school lunch program or school breakfast program
Tribal Head Start
Bureau of Indian Affairs General Assistance
Food Distribution Program on Indian Reservations
Tribal TANF
2. Not Participated in a Government Aid Program
If you are not a participant in any of the programs mentioned above, you have to prove that your income is below 135% of the Federal Poverty Guidelines. Please note, this standard may vary from device provider to device provider, and sometimes the requirement is 200% below the Federal Poverty Guidelines.
Learn More:
Application Process to Get a Free Government Hotspot Device
As mentioned earlier, the application process is very easy. The process contains two steps: document preparation and application submission. We detail both steps here.
Required Documents
Before heading toward the application, you must arrange the following documents at the first point.
Identity proof (ID, passport, driving license, etc.)
Proof of participating in any of the earlier mentioned government assistance programs
Proof of your income showing that the amount is below 135% of the Federal Poverty Guidelines (if the above is not applicable). Here, you can submit a salary statement, a tax return, etc.
Additionally, in some cases, you may submit papers like an unemployment insurance rejection letter, a recommendation letter from your employer, a bankruptcy file, a layoff notice, etc.
How to Apply?
1. Participant in the ACP/Lifeline Program
Go to the respective website: Click Here!
Scroll down and click on "Search Provider."
A dialog box will pop up notifying you that you are leaving the government's site and going to land on a third-party site. Click "Ok."
Find a free hotspot device provider in your area by inserting address or zip code.
Contact them and check whether they need a separate application or not.
If they need it, download and print the application form from the respective company's website (ask them for the web address if you don't know).
Fill out the application form and upload it with copies of the requested documents, then send it to the mentioned address (on the website).
Collect your free hotspot device.
2. Not enrolled in the ACP/Lifeline Program
Apply via Online
Go to the website for Lifeline or ACP.
Find the "Apply Now" button, and click on it.
Fill out the application form by inserting the required data and information.
Finally submit the application.
In general, the result will be notified immediately.
Upon getting approval, contact a chosen company or find one by clicking here.
Go to the company's website and fill out the application form (if needed).
Contact them and get your free hotspot device.
Apply Offline
Go to the website: Lifeline or ACP.
Download the application form.
Fill it out with the necessary data and information. Scan your documents.
Place the completed application and the document copies in an envelope.
Mail the package to the address: Lifeline/ACP Support Center, PO Box 7081, London, KY 40742.
After receiving approval, search for a device provider within the area.
Check with them to see if they need an application or not. If need, download the application form, fill it out, and send it to the given address (the device-providing company).
Which Companies are Best For A Free Government Hotspot Device
1. T-mobile
Free device with 100GB of data per year. To apply click this Here!
2. Verizon
To download the application form, click here
3. American Wireless
To get the free internet device go to the company website: click here
4. Life Wireless
To apply go to the website by clicking here!
5. StandUp Wireless
To apply go to the website by clicking HERE!
These five are just examples. There are many others, and you will not face any difficulties in finding one.
Final Thoughts
We hope that now all of your confusion is gone regarding receiving a free government hotspot device. Last one thing we would like to mention here. The companies offer various types of free hotspot devices, including mobile, tablet, and specialized hotspot devices. We suggest you go for the specialized hotspot device to get smooth connectivity and higher speeds. However, you can get a smartphone or tablet if you don't have a phone or computer.
Frequently Asked Question
Is there any free hotspot device for students?
Yes, most network providers provide free hotspot devices to students from households that participate in Lifeline or ACP.
How can I get a free government hotspot?
To get one, you have to apply to the network company with the required documents, including personal identification and proof of approval for the Lifeline or ACP program.
What device can I get as a free government hotspot device?
You generally have three options. You can choose from a smartphone, tablet, or specialized hotspot device.