Your laptop or tablet's reliance on free public Wi-Fi is over. The mobile hotspot capability integrated into most Verizon cell phones now enables you to work and surf the Internet while on the road. You may connect up to 10 mobile devices to a 4G LTE smartphone via a mobile hotspot. Wi-Fi networks can be set up in a matter of minutes by following only few easy steps. A USB cord is not required, and your phone's mobile data plan may be shared by numerous people. Here is step to step guide about how to set up personal hotspot Verizon.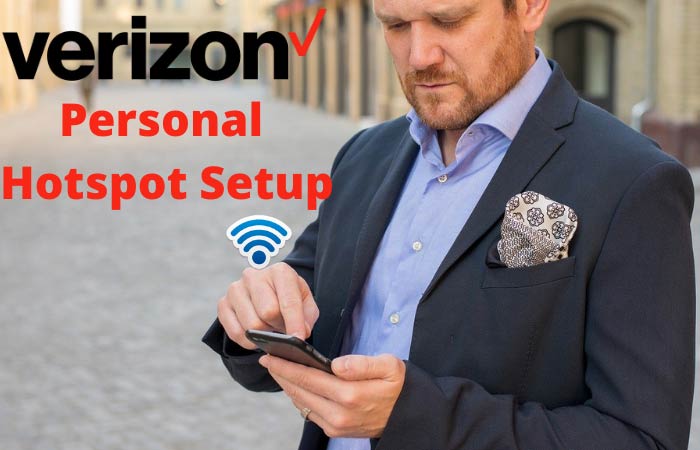 In this article, I'll show you how to set up personal hotspot Verizon on a variety of iOS and Android devices and how to make sure it works properly. To begin, make sure that your Verizon cell phone's mobile data is switched on and that you have service before setting up a personal hotspot. To convert your iPhone into a mobile hotspot, navigate to Settings > General > Personal Mobile Hotspot. Switch up your Mobile phone's Mobile Hotspot and Tethering options.
Read More:
What is Personal Hotspot?
In contrast to a tethering connection, which only enables one computer or device to attach to the phone by Bluetooth or USB cable, a hotspot linkage helps you access several gadgets to your phone enabling web access. In 2011, Verizon released the Personal Hotspot capability.
Ensure that You Have Wireless Hotspot Data
Best data plans, such as Verizon's, come with built-in hotspot functionality. To make up for not having limitless bandwidth, hotspots receive a monthly data allowance. If many devices are connected and using the Internet at the same time, the speeds for all will be affected. There are two types of Hotspot data plans offered by Verizon.
Hotspot data at high speeds
Hotspot data at a low speed
When the high-speed hotspot data on your phone has been used, you may still connect devices to the internet through the Hotspot, but at a much slower rate. As a result, before deciding to switch on the Hotspot feature on your phone in order to enable internet access to other devices, be sure that you have enough hotspot data.
Ensure That You have Service on Your Phone
You can use your phone to generate a hotspot even if you don't have access to the internet. While other devices will be able to connect to the connection, they will either have a restricted internet connection or will have a very poor internet connection if you do not have service. For efficient internet connection through Hotspot, you should have at least two bars in the upper right corner of your screen. In the absence of an adequate signal, you will be unable to give internet access to any other connected devices.
How to Set Up Personal Hotspot Verizon
1. Setting Up Personal Hotspot on iPhone
You may switch on the Hotspot after you've made sure you have adequate service and hotspot data. The iPhone's hotspot activation procedure is straightforward. Follow these easy steps to enable Wi-Fi hotspot on your iPhone:
Go to the Settings.
Select the Cellular option.
Toggle the cellular toggle to the green position.
Once you've done so, switch on your personal Hotspot by tapping the toggle next to it.
Now, if you ask me specifically about "How to set up hotspot on iPhone 11″ or "How to turn on hotspot on iPhone 12, the answer will be the above ones which have been discussed. However, if you want to "Turn iPhone into Hotspot without Plan", then the process is different.
2. Setting Up Personal Hotspot on iPad
Similarly, enabling the iPad's hotspot is a straightforward process. When it comes to connecting to other devices, an iPad without LTE capability is out of luck. Turning the Hotspot on is simple if your iPad supports LTE.
Make your way to the Settings menu. Cellular is the preferred option.
To make cellular active, turn on the toggle switch next to it.
Once you've done so, switch on your personal Hotspot by tapping the toggle next to it.
3. Setting Up Personal Hotspot on Android
Follow these procedures to enable the Android device's hotspot:
Select the option for "Network & Internet".
Select Hotspot & tethering from the menu.
Turn on the Wi-Fi Hotspot option.
4. Enabling Verizon Hotspot Using the App
The Verizon app may also be used to set up a Wi-Fi hotspot. The only way to use your phone as a Wi-Fi hotspot is if you have a data subscription. As a result, you must first use the app to activate Hotspots. To enable the Wi-Fi hotspot using the Verizon app, follow the steps outlined below:
Go to the App Store or Google Play and download the app.
Use your Verizon login credentials to access the app.
Select My Plan from the Account drop-down menu.
Invest in a plan that you believe will suit your requirements best.
5. How to Turn Off Personal Hotspot
It is recommended that you switch off the Hotspot after you have finished utilizing the internet connection or have not utilized any of the connected devices to avoid any data loss. The fast menu on your phone may be used to turn it off. You may, however, use these methods to disable a hotspot on an iOS device if you can't locate the option in the fast menu.
Select the Cellular option.
To turn off the personal Hotspot, turn off the toggle next to it.
The Verizon Wireless Hotspot Plan
Verizon Mobile Hotspot Data Plans provide the data you need to remain connected. You may choose one or more of them based on your specific needs. However, Verizon Prepaid Hotspot Plans are a great service for any user. The following are the plans from which you may choose:
| | |
| --- | --- |
| PLAN | 4G Hotspot Data with Speed |
| Verizon Start Unlimited | 10 GB |
| Verizon Do More Unlimited | 15 GB |
| Verizon Play More Unlimited | 15 GB |
| Verizon Get More Unlimited | 30 GB |
How to Get Unlimited Hotspot Verizon
In a way, all Verizon unlimited plans have unlimited data, but not high-speed data. Your internet rates will drop to 600Kbps after you reach your monthly hotspot data cap. That's hardly fast enough to stream a low-resolution YouTube video.
Frequently Asked Questions
Why is My Verizon Hotspot Slow?
Hotspot speeds may be affected by a variety of factors, the most common of which is wrong mobile device settings. Most users have no idea that the default settings on their mobile devices favor sluggish hotspot internet speeds and incorrectly assume that Verizon's internet service is inadequate.
As a result, go to the mobile settings, pick mobile connectivity, press mobile hotspot, select the advanced drag button, and finally select 2.4GHz frequency there. The speed of your mobile hotspot will improve as a result of this.
Why is My Verizon Hotspot Not Working?
The assigned data has been used up, or you don't have a hotspot plan at all at this time.
Is Verizon throttling My Hotspot?
After you have used up all of the high-speed data that has been given to you, the speed of your Verizon hotspot is throttled.
What is normal Verizon hotspot speed?
Generally speaking, the speed ranges between 5 Mbps and 12 Mbps on a standard basis.
Conclusion
Having a personal hotspot is a great perk for everyone. You may share your hotspot with family members who don't have internet access. A personal hotspot may be simply set up on your smartphone by following the instructions in this article.