If you are an iPhone user, you might have already experienced the top-notch network facilities of Verizon. In the market, Verizon iPhones are also gaining popularity significantly. Whether your iPhone is, purchased from Verizon or another store, sometimes you might face internet connectivity issues. Here, we assist you in such a case by answering why Verizon no internet connection iPhone and how to resolve it.
Why You Should Use Verizon's Service on iPhone
There are iPhones already integrated with Verizon.
It is one of the top networks in the United States.
Verizon's network functionality covers LTE, 3G, 4G LTE, and 5G.
It has no lag in cases where the iPhone is 5G-supported.
Unlimited data packages.
Internet speed is more than satisfactory.
Quality customer service department.
Why Verizon No Internet Connection iPhone & Solutions
You can use Verizon's network on your iPhone in two ways: WiFi and SIM.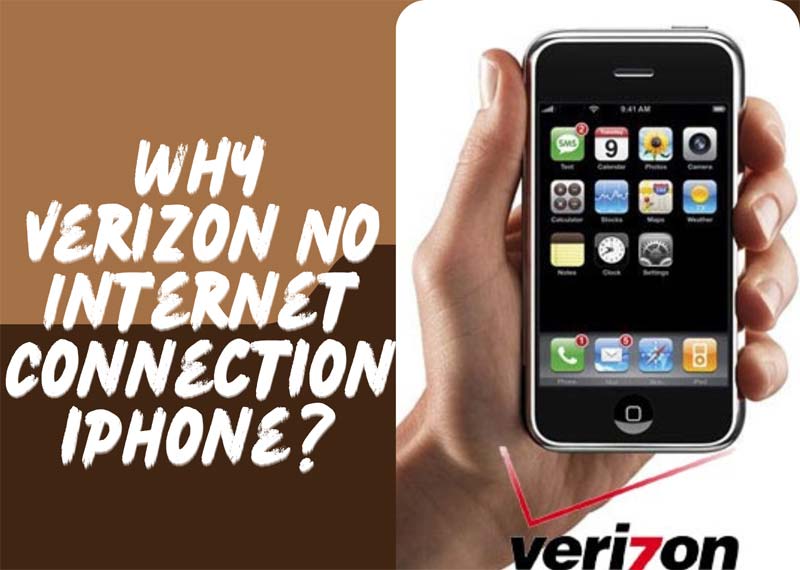 You are Using Verizon WiFi
1. Hanged Router
If you are using Verizon's WiFi on your iPhone, a hanged router can disrupt the internet connection. To resolve this, follow the below step-by-step guidelines.
Disconnect the router's power.
After 60 seconds, reconnect the power.
Wait a couple of minutes.
When all the LEDs show "working," check the internet.
2. Inaccurate WAN Connection
If you have just started with Horizon and are facing a no-internet connection issue, an inaccurate WAN connection can be the cause.
Check behind the router.
Check if the incoming cable is connected to the router's "white port" or not. This "white port" is usually recognized as a WAN.
If not, connect to the WAN port.
Check to see whether the WAN light is on or not.
Check your Internet.
3. Interface–Related Issues
If you have activated both WiFi and SIM internet, there is a chance of interface-related issues developing. It may restrict your iPhone's ability to connect with Verizon's WiFi.
Go to "Settings" on iPhone.
Turn off "Cellular Data."
Turn off "Cellular Data Roaming."
Disconnect the Verizon WiFi from the iPhone WiFi settings.
Reconnect the Verizon WiFi from your iPhone.
Check the Internet connection status.
You are Using Verizon SIM Data
So, you are using a Verizon SIM for the internet on your iPhone, and there is no connection. We elaborate on the associated reasons and resolution approaches.
1. Interface-related Issues
If your iPhone is connected to WiFi and SIM data, there is a chance of no internet connectivity due to interface-related issues.
Go to "Settings."
Go to "Wi-Fi."
Turn off the WiFi.
Also, we suggest turning off Bluetooth at this moment.
Go to "Cellular Data."
From here, turn off and on the SIM data.
Check the internet.
2. Other Network Catched
Due to the nearly identical frequencies of Verizon and other operators' tower-top GSM equipment, sometimes your iPhone's antenna catches the other network. In such a case, you will face no internet connectivity, and your calls will also be disrupted.
Switch off the iPhone.
Wait for at least 30 seconds.
Switch on again.
Check the internet status.
3. SIM Card Displacement Issue
SIM displacement can occur as a result of incorrect placement or vibration. A displaced SIM will never work properly resulting in no-internet connectivity.
Take out the SIM tray.
Check the SIM and SIM tray for physical damage.
Check the inside of the slot.
Reinstall the tray.
Switch off the iPhone and switch it on.
Do the required network settings.
Check the internet connection's status.
4. Issue with VPN Configuration
Sometimes VPN restricts Verizon's internet. In such a case, resolving the VPN configuration issue is essential.
Go to "Settings."
Go to "VPN."
Turn off the VPN from the "Status" option.
Now check the internet connection.
If it is okay, then there is an issue with your VPN.
5. Network Compatibility Issue
If your iPhone is configured for a 5G network but you are now on LTE or 3G, you may experience no internet access on the phone. However, the required swift (5G to LTE) is usually automated, but sometimes you need to do it manually due to errors in your phone.
Navigate to the "Settings" tab.
Go to "Cellular Data" section.
Go to "Data & Voice."
Uncheck the 5G.
Select LTE.
Check the internet connection.
6. Airplane Mode is On
You may leave Airplane Mode on by accident or for good reason. It can also result in a no-internet scenario.
Check the status of "Airplane Mode."
Switch it off.
Final Thoughts
So far, we have elaborated on the resolving approaches in case you are facing the issue of Verizon no internet connection iPhone. However, if all of the above methods fail, you should reboot your iPhone. Also, you can contact Verizon's customer care if you cannot solve it by yourself.
Frequently Asked Question
Why is Verizon 5G connected but there is no internet?
The most possible reason for this is that maintenance work is going on at the designated tower. When network providers conduct maintenance work at any tower, the respective services are redirected to a different tower nearby. It sometimes causes internet disruptions and call drops.
Why a Verizon iPhone with no Internet access?
If you face such a problem with internet access, check whether the WiFi on your phone is on or off. The "on" status of WiFi can cause problems with internet access.
Why is Verizon Internet not working at home?
If you are using Verizon WiFi, please check with the router. Perform a soft and hard reset on the router, and in the worst-case scenario, reboot it. However, if you are using Verizon SIM data and have tried all of the above-mentioned approaches with no result, then your location and the respective GSM's location (on a tower) are blocked by a tree, building, or any high-rise element.