If you compare Cricket and Straight Talk in terms of cost-benefit ratio, surely you will see that Straight Talk is far ahead. And this will force you to use Straight Talk's service. But what to do with the existing Cricket phone? Can you use a Cricket phone on Straight Talk? Yes, you definitely can use that. To assist you in this regard, we detail all the aspects of using a Cricket phone on Straight Talk. Let's check the details.
Why Use Straight Talk
Faster internet speed.
Packages are full of value-added services. Some even come with unlimited nationwide calls and texts.
There was almost no call drop.
Wide network coverage.
Straight Talk has a specialized offer for mobile phones.
Can You Use a Cricket Phone on Straight Talk?
The very straightforward answer to this question is "yes, you can." But it has two conditions, listed below.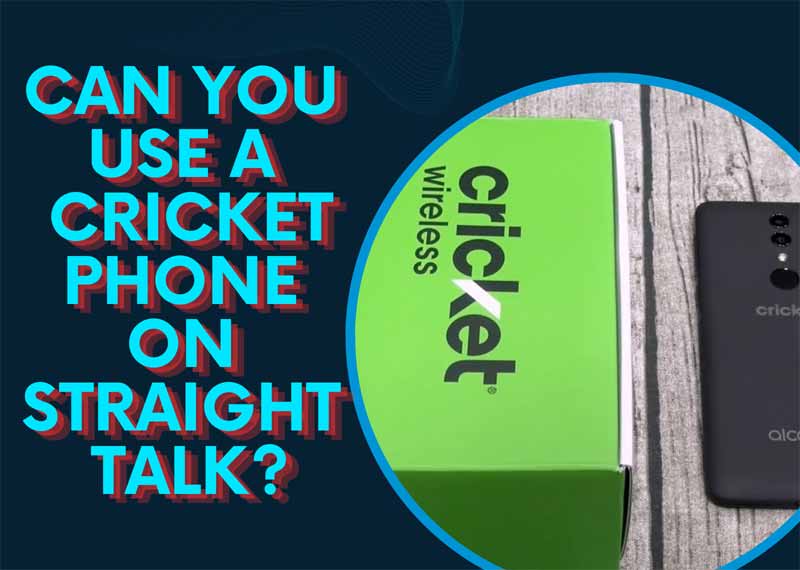 Condition 01
First of all, your Cricket phone has to be unlocked. If it is locked, contact Cricket customer care to get the "code." After getting the code, unlock your phone and start using Straight Talk.
How to Unlock Cricket Phone
Collect the unlock code first by contacting Cricket, using unlock code-generating software, or taking the help of an unlock code-providing website.
Switch off the phone.
Insert the Straight Talk SIM card.
Switch on the phone.
In the opening screen, it will ask you for the unlock code.
Enter the code.
Now, you can use the Cricket phone on Straight Talk's network, which is basically a network service of Verizon, AT&T, and T-Mobile.
Condition 02
Your Cricket phone has to be compatible with the Straight Talk network. In general, Straight Talk supports CDMA and GSM networks. For more particular information, collect your Cricket phone's IMEI number and cross-check with the Straight Talk website.
Way of Checking Compatibility of Your Cricket Phone on Straight Talk
Below is the step-by-step process of checking whether your Cricket phone is compatible with Straight Talk's network or not.
On your Cricket phone, dial *#06#. It will show you the phone's IMEI number.
Go to the Straight Talk website. Go to the "bring your own phone" section.
Press the "Check Phone Compatibility" button. It is a black-colored, third-number button.
There will be two options: press the "phone" option (it has a picture of a phone).
Now enter the already-collected IMEI number.
Now enter your area code (ZIP code).
Enter the CHEPTA.
Now, on the next screen, the system will ask you to confirm the inserted information.
Press the "confirm" button.
Now, the next step is the selection of a network; choose the desired one from the menu (Verizon, AT&T, or T-Mobile).
A result will come up showing whether the phone is compatible or not.
List of Cricket Phones That Use on straight talk
Below is a list of the compatible Cricket phones on Straight Talk service.
SAMSUNG Galaxy A01–A52
SAMSUNG Galaxy S10-S21 Ultra 5G.
iPhone SE, 2020 version.
iPhone 8.
iPhone 8 Plus.
The iPhone 11 and the iPhone 12.
iPhone 12 Pro.
Motorola G7.
Motorola G Power.
Motorola G Stylus.
And many more.
Are Cricket Phones Unlocked?
For this particular question, there are two answers. First, if you bought the phone directly from Cricket, it is almost certainly locked. You have to contact Cricket Customer Care for the unlocking code to unlock it. However, please note that generally, you have to keep the phone activated for at least six months before unlocking it. Secondly, if you bought this phone from a third-party seller, it is most likely unlocked.
However, if it is locked, there are several ways to unlock it. The two best suite ways are using phone unlocking software or a website. UnlockMe, UnlockItFree, Unlocky, DoctorSIM, Dr. Fone, and other well-known programs are available. And the websites are IMEI Doctor, CellUnlocker.net, Unlockbase, etc.
Final Thoughts
We believe you now know whether can you use a Cricket phone on Straight Talk or not. Here, we have tried to include almost every detail regarding this context. However, we would like to mention one more thing here. To check your Cricket phone's compatibility with Straight Talk service, just call Straight Talk customer care and inform them of the IMEI number; they will provide you with the solution. This strategy is highly useful if you are not a tech-savvy person.
People Also Ask
Can Cricket phones be switched to Straight Talk?
Yes. Your Cricket phone can be switched to Straight Talk. It just needs to be unlocked.
What carriers can you use a Cricket phone on?
There are three carriers on which you can use a Cricket phone: Verizon, AT&T, and T-Mobile.
Can you put any SIM card in a Cricket phone?
Yes, you can use three types of SIM cards in a Cricket phone. The sizes are standard, mini, and micro SIM cards.
Can Cricket phones be unlocked for AT&T?
Yes, the Cricket phones can be unlocked for AT&T.
What's the unlock code for Cricket phones?
Well, the code is not fixed. It varies based on the model of the phone. You can obtain the unlock code by contacting Cricket customer service, using unlock code-generating software, or visiting an unlock code website.