The term call blocking refers to technology or equipment that can prevent many of the unwanted calls you get, such as scams and unlawful robocalls, from reaching you before they can ever get to your phone. Call-blocking features are available on cell phones, landline phones that use the internet to make calls (VoIP), and landlines. Just be aware that certain valid calls may be blocked by call-blocking services.
Block Phone Number on Landline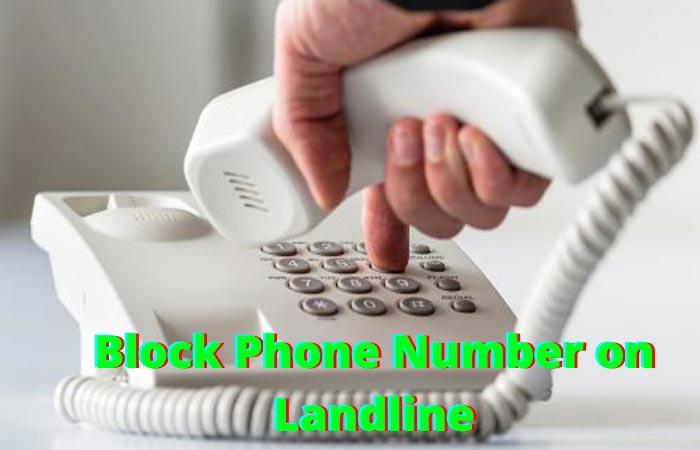 Almost everyone who owns a phone has had to deal with scammers and telemarketers regularly. Blocking these numbers of your landline phone may assist you in avoiding receiving any more of these bothersome calls.
It's not difficult to accomplish this, and there are several to do it. We will know how to block phone number on landline phone. Here's how to put an end to obnoxious calls once and for all:
Use the *60 Star Code
Star codes, or asterisk and number combinations, can be used by both lae and mobile phone users to regulate many aspects of their cell phone service. A couple of these codes can be used to stop unwanted calls from becoming an annoyance.
Anonymous calls can be blocked by using the star code *77. This can stop private callers, but public callers can't be stopped.
You can also use the built-in *60 call blocking star code to ban specified numbers from contacting your landline phone by following the procedures below:
Dial *60 on your phone to begin.
When you dial the number, you'll hear a message which will lead you through the process of blocking it.
Dial #01# if you want to block its most recent call.
After dialing #, type in the phone number, followed by the area code, and then #.
However, you can only block a total of 12 numbers by using the *60 code, which is a beautiful strata great unwanted callers away from your home.
By using the *80 code, you can deactivate the call-blocking feature for the numbers you had designated.
Use a Software or Physical Product
If you're having difficulties avoiding spam calls, or the star code mentioned isn't strong enough to keep your number safe, try one of the following options:
Nomorobo
Using a simple piece of software, you can keep your phone number safe from robocallers by running the caller's number through regularly updated databases.
Using Nomorobo's database, you can contribute to both the blocklist and the allow list if you observe malicious callers getting through, or good callers being blocked.
"Simultaneous Ring" allows Nomorobo to identify rogue callers before you even answer the phone on landlines. If the phone rings more than one time, you know the call is authentic. Meanwhile, the call has already been barred from being made.
Related Article: How to Record Phone Calls on Landline
CPR V5000
It's possible to block up to 5,000 recognized robocall numbers with CPR's V5000, which comes pre-installed. Allows this to block calls before they could ring on your phone by connecting with both phone and service lines linking the red "block now" button on the V5000 when an unwanted caller gets through; you can add numbers to the phone's database. You can also enter numbers manually. Most unwanted callers can be blocked with a maximum storage capacity of 1500 numbers.
Private callers, unidentified status callers, international calls, and other types of calls can all be blocked by the V5000. Even specific area codes can be restricted if necessary.
Deactivating Call Blocking
As previously noted, you can turn off call blocking by dialing *80 from any phone. However, based on your service provider, the actual steps may differ significantly from those listed above.
Activation and deactivation of call blocks can be accomplished in a variety of ways, depending on the service provider:
How to Block Calls on Verizon Landline
On a conventional or pulse-dialed phone, Verizon recommends dialing 1180 to disable call blocking. Dial 1160 to enable the feature on these devices.
How to Block Calls on Landline AT&T
To enable (or deactivate) the feature on an AT&T landline, users might have to press 3 after dialing the star code. Otherwise, the actions are identical to those taken by the majority of other carriers.
How to Block a Number on Landline Spectrum
Using the normal star code, Spectrum phone customers can block up to 30 numbers, however this feature must first be activated online. This service includes a customized Nomorobo replacement by default, which blocks robocalls.
How to Block a Number on My Cox Landline
A blocklist can include up to 31 integers, which can be added by using the conventional star code, according to Cox.
How to Block a Number on Century Link Landline
Customers can configure call blocking features through a Century Link update center. To get to it, users should dial *78 or phone 888-(your area code)-8052, whichever is more convenient.
How to Block a Number on Frontier Landline
In total, Frontier Landline customers can block up to 12 numbers, however, some areas may be limited to blocking only six.
Even though robocalls are an unwelcome side effect of possessing a phone, by following a few simple procedures, you can significantly minimize or even eliminate unsolicited phone calls.
From the above, we have learned how to block phone number on landline phone.
Extra Info for Smartphone Users
Users of Android and iPhone smartphones are not restricted to using the pre-installed call filtering features on their devices. There are other third-party apps on the market that provide a far wider range of call blocking capabilities.
TrueCaller is one. This program offers access to a big database of numbers that is updated daily by millions of users and helps you identify who is contacting you. You can then approve or disapprove the call or add it to your block list.
One final comment about mobile applications. To prevent someone from contacting you through applications such as WhatsApp and Messenger, you must first block them within the app itself – simply blocking those on your phone will not usually suffice in this situation.
Weekly Hot Posts 🔥