As the world is getting more modern with every passing second, people are leaning towards electronic payment and using cards more. However, cash payments are still very much a necessity worldwide, and people must always access ATM booths. But what happens when you are in dire need of withdrawing money from a checking account without a debit card? Let's find out how to withdraw money from checking account without debit card. Everyone finds themselves in various situations for whatever reason, such as having to withdraw money without the presence of an ATM card. It can be a tricky thing to do, but there are so many ways to do it. Now, we will discuss some of the options, and what you need to avail of each of them is also mentioned.
How Can You Withdraw Cash From Checking Account Without a Debit Card?
When it comes to taking money out of an automated teller machine (ATM) without using a debit or credit card, you will have a few different alternatives available to you. Let's see them..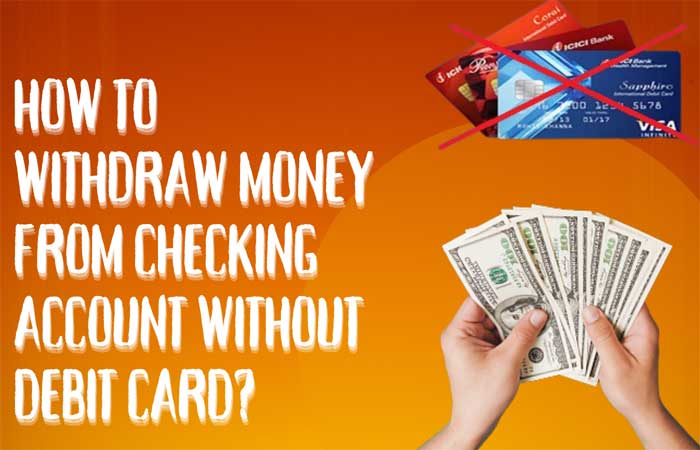 1. Withdrawal Slip
This is one of the simplest ways to pull out cash without a debit card. You will have to collect the withdrawal slip from your bank by showing them your ID and checking account number. Then, fill out the withdrawal slip, which is easy to fill and usually asks for your name, account number, the desired amount to withdraw and the date. If you can fulfil all the requirements and the amount you requested is in the account, you will be able to withdraw the funds quickly and with no further issues.
2. Writing a Check to Yourself
Another straightforward way to withdraw money from a checking account without a debit card is by filling out a check. When you own a checking account, you are bound to have checks on your account as well. Here, you have to write yourself a check which can be payable for yourself or just "cash," and then bring it to the bank. Since you do not own a debit card, you must show a government-issued ID or any form of verification to the teller. Without a bank account from where you will cash a check, you will not be able to go through it.
3. Using Your Bank's Cardless ATM
One of the most innovative ways of withdrawing cash without a debit card is by using your bank's mobile banking app if there is one. It is also digitally secured for customers to take out cash when needed. For this, all you need is a smartphone which can access the internet, the bank's mobile app, and a bank account. Then you must go to the ATM booth and use the banking app and a generated bar code. Some of the card less money withdrawals will require entering a PIN code manually. Card less money withdrawal has been increasingly popular for some time now.
4. Using a Prepaid Card
Having a prepaid card does not require owning a bank account. If you do not want to open a bank account shortly, then consider having a prepaid card which the ATM will accept. In this case, you can withdraw money from a checking account without a debit card whenever required. It is an easy and less time-consuming way to cash out money.
5. Owning a Savings Account
If you own a savings account, you can withdraw the money without having a debit card. Even though a savings account is connected to having a debit card, you can withdraw the desired amount from your local bank without a debit card. For this, you have to give the account information along with a government-issued ID to the teller at the bank to access the money in your savings account.
6. Emergency Cash Service
This system varies from bank to bank, and your bank might not offer this facility. You have to check with your bank if they provide an emergency cash service if you lose your card or it gets stolen. If they do, you must first report to the bank that your card is lost to withdraw cash. Then, the bank will deactivate your card, and they will issue a new card by mail.
7. Sending Money Over the Internet
With the help of some online apps, you can transfer money to other people. Here, no debit cards are involved. Apps such as PayPal, Google Pay or Facebook Messenger allow you to send money to a recipient without needing a debit card. All you have to do is to put in the recipient's phone number correctly and the amount you want to send. In this case, you can ask the recipient to withdraw the money from their account and hand it over to you.
8. Check to Cash
If your bank is closed, you will be confused about where you can withdraw money with no debit card. As it is a personal checking account, you will face many issues while cashing out a check. Some local grocery stores have the facility of cashing a check. They have a limit up to which you can cash a check. However, they also charge a certain fee depending on the amount you are cashing out. Check to cash is a very convenient and quick way to withdraw money, but it has some major security issues.
Final Words
There are various ways how to withdraw money from a checking account without a debit card. In most cases, the money withdrawal procedure is complicated without an ATM card, but it is plausible. Some of the ways mentioned above are complicated, while others are pretty easy. Getting a debit card as soon as possible is best because it comes along with your checking account, so you do not have to purchase it. Other than that, if you ever forget your debit card or lose it and have to withdraw cash immediately, then any of the above ways are applicable.
Frequently Asked Questions
Is it necessary to own a bank account for checking out money?
It is not necessary to own a bank account for cashing out, but it has many drawbacks. One of the most common ways of checking cash without a bank account is by writing a check and taking it to the local stores that cash checks.
Are there any drawbacks to not owning any debit cards?
Owning a debit card has many benefits. Debit cards prevent debts, and you do not have to pay annual fees. However, debit cards require a PIN to confirm purchases which can be time-consuming for some people as credit cards do not require one.
How can you get a debit card?
Having a debit card is easy if you own a checking account. You do not have to apply separately for a debit card. Request the bank's customer care service line for a debit card, or you can request one online.
How can I draw money without my card?
Visit the ATM at your bank's location and choose the cardless cash withdrawal option. Next, select your registered mobile number, then type the OTP or transaction ID sent to it. Finally, enter the desired amount to draw money.
What if I don't have a debit card?
Some ATMs (particularly bank network ATMs) offer cardless withdrawals using a mobile app or wallet. You may also cash a check, earn cash back, or withdraw money directly from your bank.
Was this article helpful?