Rushing to the bank at the 11th hour and sitting for a substantial amount of time just because of how overrated banks can be is frustrating. You might be wondering about opening a new credit union account. Since you are trying to make a decision that might benefit you shortly, you are probably reading this article to understand its tips and turns. So you may be wondering Can I withdraw money from any credit union? In short, the answer is Yes. Did you know that credit unions offer a higher savings rate, lower fees, and many more? Let's check it out.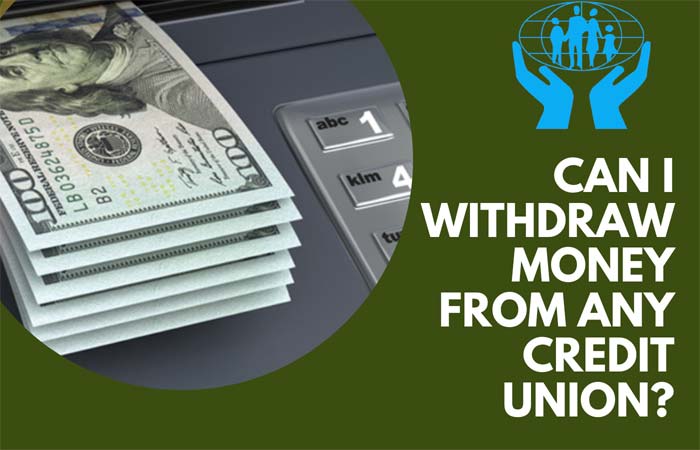 What Exactly is a Credit Union and How Does It Function?
A credit union is almost the same as a bank. However, the major difference between a credit union and a bank is that a union credit is a non-profit organization owned by authorized members of the union. On the other hand, a bank is a profit institution that secures revenue for its shareholders. Similar to a bank, a credit union accepts deposits, offers loans and a good deal of loans, and many more. A credit union's main motive is to reinforce its members' economic benefit by offering financial services at a reasonable rate in the highly competitive, fierce industry.
PROS
Credit unions offer elevated interest allowances on deposits and savings accounts
Unlike banks, credit unions offer the best deals on car loans, mortgages, and credit cards
Credit unions have a flexible qualification system, meaning it won't matter much if you have a damaged credit score or don't have a credit history
CONS
As easy as they make the eligibility standard to be a member, the harder they make it for people who don't qualify to be a member
A credit union has a lower reach of accessibility, meaning that they have fewer branches than a traditional bank
If the credit union is a small organization, it won't offer many benefits like renowned and largely known credit unions would do
How to Open a Credit Union Account
To have the bond called the field of membership, these things might be inspected:
Your employment status affects your membership, and also, depending on your work industry, it can make you more eligible for membership.
Ask if anyone in your family is an active member of your preferred union, as it might affect your membership eligibility.
Ask if your current institution or school has any relationship with your preferred union, as it might affect your membership eligibility.
If your credit union branch operates locally, you can find the preferred branch of your credit union by searching credit union near me.
Credit unions can also operate based on faith. If you are active in some religious institution, ask some people if they are actively involved in a credit union.
You will require a membership to open a new union account. If you tick all the boxes for acquiring a credit union membership, let's see how to open an account now.
A recent photo of yours through which identification can be made.
Verification of your current address will be made, so bring some proof.
A number through which you can be identified, for example, a social security number.
Bring cash to fund your new account and transfer it.
However, if you own a business, you will need to have these documents convenient too.
EINer that will be used to identify your business.
Necessary papers of your business incorporations.
Signature of consent from your other business partners (if you have any).
Names of Some Credit Unions
Addition Financial.
Alliant Credit Union.
Affinity Plus Federal credit union.
Aggieland Credit union.
Alaska Federal Credit Union.
AFL-CIO Employees federal credit union.
BECU
Belvoir Federal credit union.
Buckeye State Credit Union.
Consumers Credit union.
Navy Federal Credit Union.
Suncoast Credit Union.
Connexus Credit Union.
First Tech Federal Credit Union.
Community First Credit Unit of Florida.
Can I Withdraw Money From Any Credit Union
Yes, it is possible through a service called shared branching. If you are unable to reach your usual branch in any way, you can use this method to complete the transaction requirement. If the credit union you are enlisted in is part of the shared branching network previously known as the CU service center, you can withdraw cash from anywhere. And be susceptible to more advantages, for example:
Deposit money in any of the credit union branch that is a part of the network or CU service center.
Take money out from an ATM.
Issue loan payments.
Shift money between one account to the other.
Now let us understand the things that you will need to use this network or CU service center.
Your union account number.
Things that they will use for identification and verification to access your account.
Your credit union's name.
How Much Money Can I Withdraw From My Credit Union Account
The credit union withdrawal limit can be anywhere between 300 to 1000 dollars per day.
What Credit Unions Have Shared Branching?
Alaska USA Federal Union
Consumers Credit Union.
Boeing Employees Federal Union.
Delta Community Credit Union.
First Tech Federal Credit Union.
Golden 1 Credit Union.
Connexus Credit Union.
Navy Federal Credit Union
Security Service Federal Credit Union.
Conclusion
Today, we have discussed all credit unions. Starting from, what credit unions are, what benefits they offer, available credit unions, what credit unions have shared branching, CU service centres, and a lot more. To be fairly speaking, traditional banks are more acceptable to the public. However, credit unions are just as valuable, and many people are becoming open to this option. 
Frequently Asked Questions
Are credit unions more efficient than reputed banks?
This answer may depend. Credit unions usually offer their consumers fair rates, which banks don't.
How secure and safe are credit unions?
They are just as secure and safe as traditional banks.
Can credit unions seize your money from your account?
Generally speaking, credit unions do not have as strict measures or regulations as traditional banks. So, there is a possibility that they might seize your money from your account.
Can you withdraw money from a credit union online?
In most credit union accounts, you can withdraw your money whenever you choose. In addition, some of the credit unions that formerly prohibited members from accessing their savings accounts online have now removed these prohibitions.
How long does it take for money to go from a credit union to a bank account?
It takes five working days for direct debits to clear. Even though it may take one to two days for funds received by standing order or electronic funds to transfer to cross accounts, they are immediately removed once they do.