The internet has succeeded in taking over the world, and by that, we mean literally. If you have internet access, you can make calls over it without needing a prepaid card. For this reason, people do not want to put much money in their prepaid cards as it is not spent often. Sometimes when you own or have received a prepaid card, the money from that card would be convenient for you in your bank account or as cash in hand. Some cards will let you make cash transfers, and T-Mobile is one of them. In this article, you will find how to transfer cash from T-Mobile virtual card to a bank account and come across some questions regarding the process.
What Exactly is a T-Mobile Virtual Card?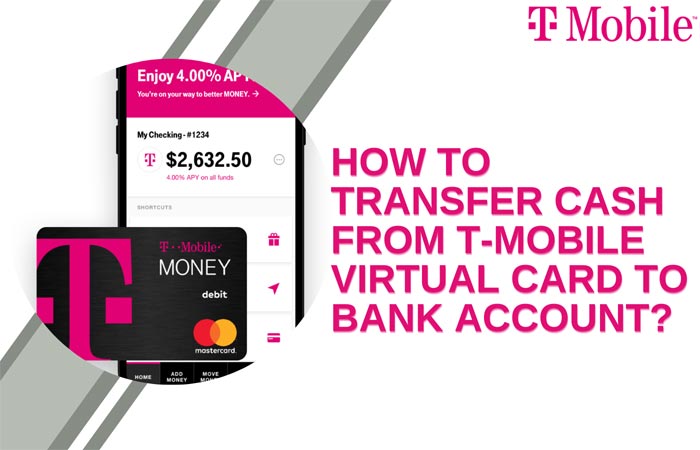 The carrier provides the T-Mobile virtual card, which is a free card that provides the customer with various deals such as promotions, reimbursements, credits, and redemptions. The card can be used by the customer when they purchase a new device, to trade in devices, or while setting up a new internet activation at home. New customers who are changing their current carrier to T-Mobile can also use it.
No extra cards or applications will be needed, which indicates that there will be no points or credits stored when you use the card. These virtual cards have no commitments, but they offer many freebies and perks. Also, you can add these gift cards to different mobile wallets such as Apple pay, Google pay, or Samsung pay.
Steps to Follow for How Transfer Cash from T-Mobile Virtual Cards
As you know that you can attach the virtual card to a mobile wallet and then use it. Or you could spend it on daily expenses, but you will not be receiving any points in that case. So, the best option is to transfer the cash from T-Mobile virtual cards to a bank account.
To cash out the balance, you must first get to T-Mobile's website and log in to your account. Then select the "access $" tab and provide your bank account information.
Then you can make a one-time withdrawal to cash out the entire amount to your bank account. The website will inform you that you will receive the entire amount within 2 to 3 business days in your bank account.
After the withdrawal, your virtual card balance on the website should update immediately.
Should You Transfer Cash from T-Mobile Virtual Card to a Bank Account?
A question like this might arise in your head when you are about to transfer cash. T-Mobile virtual card brings many benefits you will not get when using a standard credit card. The benefits of using a virtual card from T-Mobile, regardless of how you use the carrier, include the following:
1. Cheap Transactions
Compared to the standard credit card transactions, each virtual card transaction costs are way cheaper.
2. More Safety
The VCC does not exist physically, so you do not have to worry about identity theft or credit card fraudulence and theft. Moreover, each VCC number is unique, letting you set it beforehand and match it to the actual amount of the bill you want to pay.
3. Expenditure Limits
The VCC numbers are attached to each unique transaction. As soon as you pay the bills, the card expires. In this case, you will not be able to continue shopping as the VCC has no funds to provide.
4. Time Management
More of your time savings, as you do not have to move from one place to other to pay bills. You will not have to go through any more archaic and troublesome paperwork or other procedures. You can easily pay your bills from the comfort of your home or any other place and at any time.
5. Cashbacks
Every time you make a purchase or transaction using a VCC, you will receive cashback or other rebates. This helps customers to get accustomed to using this technology.
A virtual card can assure you peace of mind as the transactions are secure, and your money is in good hands. However, some people still want to transfer cash from virtual cards to a bank account as there are also some disadvantages.
Disadvantages of Using a Virtual Card
Using a virtual card comes with some disadvantages. The VCC technology is still very uncommon for many businesses, and there are some challenges you will encounter along the way. They are:
1. Mismatched Number
To restrain CC fraud, you might have to provide proof of credit card ownership in some cases. Some merchants are unaware that, as a VCC is not a physical card, the number will not match your credit card, and they will see it as fraudulency.
2. Not Enough Accommodation
As this technology is still new and not every business and merchant can adopt it, so many will not switch to VCC.
3. Tiresome for Recurring Payments
When using a VCC, you have to generate a specific VCC number using a virtual credit card generator tied to that bill. Once you are done with the payment, the VCC number expires, so when you have to make a new payment, you will have to go through the entire number generation process again. It will be troublesome to pay bills for phone, electricity, gas or internet as you have to keep generating new VCC numbers every time.
4. Getting Used to
If you want to introduce the usage of VCC in your business, then you have to train your staff and invest a lot of time and money in using this tech. So it has a chance of affecting the profits.
Final Words
Hopefully, You get the answer we were looking for, how to transfer cash from T-Mobile virtual card to a bank account. If you want to transfer cash from your T-Mobile virtual card to your bank account, you can do so without going through a lengthy process. Virtual cards are still very uncommon, and using them has some drawbacks. But there are some advantages as well.
Frequently Asked Questions
Is the T-Mobile Virtual card reliable?
T-Mobile is a well-reputed sim carrier, and their virtual cards are very much safe for making transactions. Moreover, VCC is tied to specific numbers which expire after each purchase, so overall; they are safe despite the brand.
Are virtual payments easier than physical payments?
Using a VCC is less time-consuming as you do not require to do any paperwork or travel anywhere to make payments, but as you have to generate a unique number before every payment, they can be troublesome.
How can I redeem my T-Mobile virtual card?
Visit www.switch2t-mobile.com or click the text link. Enter your cellphone number and PIN. The reward code is generated when you click Redeem Virtual Card. If not, click Redeem Virtual Card again.
How do I refund T-Mobile?
You must supply a snapshot of your final bill displaying the early termination cost (ETF). The name or address on the bill must match the T-Mobile account. Before logging in, see FAQs. Reimbursement takes eight weeks.
Can I trust my money with T-Mobile Money?
T-Mobile Money deposits are kept with Bank Mobile, which is itself a part of Customers Bank, and the funds are FDIC guaranteed. A: Yes, T-Mobile Money deposits are held with Bank Mobile.