Do you know what it is like to be a new parent? You can't leave your baby out of your sight for one moment. If you are out to get groceries, you keep wondering what your beloved baby must be doing. It can be pretty nerve-wracking in these situations, and I am sure your mind has often pondered the thought, what if I can know my child's state no matter where I am? You often brushed this thought off, thinking it was some crazy idea, and continued being nervous. But Owlet now is the solution for all your worries. Not only does Owlet allow you to monitor your child, but it also enables you to observe your baby's well-being through one app! Now question is can you watch Owlet on a computer? Keep reading to find out.
What Exactly is Owlet, and How Does It Serve Its Purpose?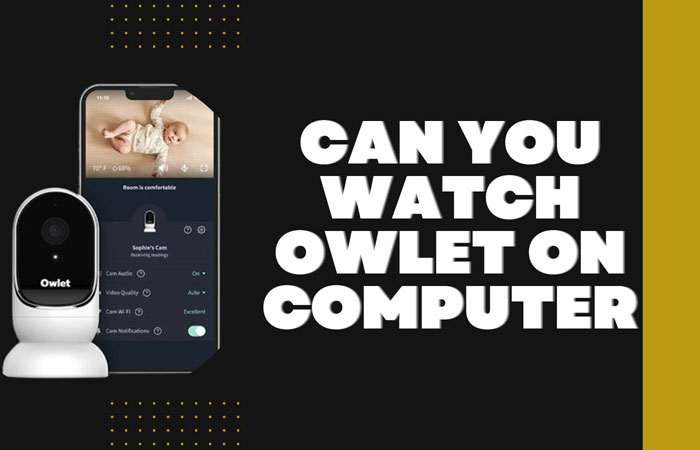 Owlet sock is essentially a monitor device that will help you to observe pulse and oxygen levels in the blood. At the same time, when the baby is asleep, it will provide protection and reduce the risk of suffocation and other health-related concerns with innovative technology. It is vital to remember the fact and mark the fact that Owlet devices do not recognize as medical types of equipment. While the FDA encourages Owlet to do so, Owlet has yet to pass the FDA clearance.
On the other hand, Owlet Cams are devices designed with brilliant innovation to get access to 1080p video monitoring your baby with just a simple internet connection. Owlet Cams allow you to speak to your baby and enable the recipient to hear with minimalistic design and versatility.
Read More
How to Set Up Owlet?
Follow these five easy steps to set up Owlet so that you can later watch Owlet on a computer, phone, and practically from anywhere!
Step 1: Your Owlet Cam Must Be Turned on
Connect your Micro USB end to your Owlet Cam.
The connection to the standard USB end of the Smart cable should be secured, then plug it into the USB Power Adapter.
Step 2: Enable Connection With Your Phone and Wi-fi to Your Owlet Cam
Download the Owlet app and select to choose a device.
Tap on 'Owlet Cam.' Make sure it is in pairing mode.
Then wait to hear 'ready to pair.'
Allow location access when prompted to help distinguish your Wi-Fi network.
Step 3: to Finish Pairing, Scan the QR Code
Your app screen now will redirect you to a new screen where you will see a QR code.
You should hold your phone leveled up to the Owlet Cam till you hear a chime.
The automatic process will successfully finish the setup, and you will wait to see 'Pairing Successful' pop up on your screen. This process might take 2 minutes or more.
Step 4: Create a New Child Profile
After pairing the device is successful, now you will be asked to create a new child profile.
Assign your camera to the new child profile you created.
Step 5: Now, You Can Begin Live Streaming
You will have completed your process by now, so enjoy the privilege of Owlet Cam.
Is It Necessary to Buy the Owlet Sock and the Owlet Cam Together to Make It Work?
While it is not essential to buy both of the products together, if you are buying either of these products and leaving the other out, you might be opting for an incomplete monitoring system.
If you are only purchasing the Owlet Cam, you will only be able to monitor your child's outer view and surroundings, not what's happening with them.
If you buy the Owlet sock, the app will only notify you about your baby's heart rate, oxygen level, pulse rates, etc., but if they are in distress, you won't be able to monitor for such symptoms or talk to them.
Can You Watch Owlet on Computer?
While there is no shortcut or straightforward way to watch Owlet on a computer, there are still tricks through which you can access Owlet on a computer. Today, we shall troll around three techniques. So let us see what they are!
1. Watch Owlet on a Computer
using an Android Emulator. Let us see how you can watch Owlet on a computer using this method!
Download Bluestacks from Bluestacks.com from Chrome.
Open the app.
Tap on the Play store and download the Owlet App.
Click on the app after the installation is complete.
Now, log in to your account.
And you are done! Now you can watch Owlet on a computer using Bluestacks.
2. Watch Owlet on a Computer by Casting Your Preferred Device
This technique ideally helps your mirror content on your computer; this is the most reliable way to watch Owlet. Please note that it is impossible to watch Owlet on a MacBook or a Chromebook at this moment, so the steps below should only be followed by Android users.
Find the 'cast' option in your Android device's settings.
Tap on 'Cast,' select the aligned dots in the top right corner, and mark Enable Wireless Display.
Your Android display will now be cast to your PC
Go to the Owlet App and access everything you want. It will show up on your computer.
And you are done! Now you can watch Owlet on a computer through mirroring.
3. Upload the Saved Clips, Which Are Held on the SD Card of Your PC
Pull the SD card off your Owlet Cam.
Place it on a micro SD card reader.
Carefully plug the micro card reader into your PC.
Now you can access all media and view the content using a media player.
And you are done!! Watch Owlet on a computer
How Do the Owlet Cam and Owlet Sock Work Simultaneously?
The Owlet Sock essentially hugs your baby's foot so you can get a reading of their oxygen level, heart rate, pulse, etc., through Bluetooth-enabled technology via the Base Station onwards. The app also sends you a notification from time to time to keep you updated. And while the Owlet Sock is coupled with the Owlet Cam, it allows you to render soothe if your baby is feeling restless, which you can monitor through the sock, but you don't have to be physically present around them! So the Owlet cam is the best way to know when your baby needs you when combined with the Owlet Smart Sock.
Conclusion
If you are a to-be parent or already a parent who is worrying about your baby's well-being, Owlet might be the best bet for you. However, even if you are a parent working in the office, this article discusses techniques through which can you watch owlet on computer very quickly. Owlet is moderately efficient as a monitoring system for your baby, so go ahead and give it a try!
Frequently Asked Questions
What is meant by the 30-Night refund guarantee?
The 30-night refund guarantee denotes that the company must return your money if you are dissatisfied with the product.
How do I connect my Owlet to my computer?
Choose the WiFi network that you want the monitor to connect to from the list of accessible WiFi networks on your device, fill in any required passwords or credentials, and then click the "Connect" button. There will be a status window that appears. After entering your password, click the Connect button.
Is there an Owlet watch app?
You will be able to see the baby's heart rate and oxygen levels. Owlet is compatible with iOS 8 and later, as well as Android devices running Android 4.4 (KitKat)
What exactly is the owlet web app?
The Owlet Dream App, which combines Sleep Quality Indicators from the Dream Sock, HD video, and data on your baby's sleep environment from the Owlet Cam, deliver insights at the moment to help you guarantee that your child sleeps better.
Does Owlet ship its device internationally?
Owlet successfully ships through Europe, the UK, the US, Australia, and Canada.
Was this article helpful?