Digital payments are now being dominated all over the world. The evolution of payments being loaned and received from the banks to your credit/debit cards to create your own personalized bank by using digital payment on your handset known as 'e-Wallet'. Just like withdrawing or depositing money from ATM booths, you will be managing your transactions through digital wallets.
Take a look around and you'll see yourself being surrounded by people looking down at their handsets all the time. This is why payments have now concurred with your smartphones making it easier to launder your money out. Similarly, we are going to be discussing Samsung Pay, a digital platform for doing payments that work as a retail store using integrated credit transfer.
Disable Samsung Pay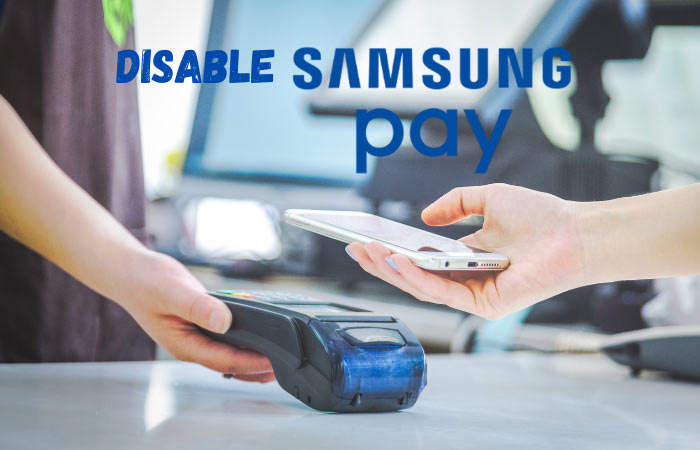 Authentic users that are connected with Samsung Pay are aware that some offers, notifications, and emails never seem to reach a conclusion. And the clients/users do not want to bother about them and find ways to disable this setting. This is why the discussion today is also to acquire knowledge of how to disable Samsung pay in your smartphone.
What is Samsung Pay?
Samsung Pay, the easiest way to take a loan, receive payments or withdraw money by using your smartphones anywhere, anytime. No more carrying your credit/debit cards or depositing a huge amount in the bank. The payments are made by using an integrated credit transfer that is conducting your credit card details and information inside a digital payment terminal.
Using NFC(Near Field Communication) technology, the data inside any credit card or bank account is traded with one or more devices by using your handset, working more efficiently as an enabled card reader. Along with Samsung Pay, there are other payment platforms as Google Pay and Apple Pay.
Presently, Samsung pay is dominating in this part by providing their customers with MST (Magnetic Secure Transmission), which allows you to deal with magnetic signals equivalent to the credit cards used when swiped in, making it easier and faster to receive your money quickly.
How to Disable and Enable Samsung Pay Grey Bar from the Home Screen
Most Samsung pay users are familiar with the grey bar that pops up as a notification and as a result, some users find it irritating and they don't know how to disable that option from their home screen. The grey bar is actually a shortcut to your Samsung Pay. You need to swipe the card up as the mechanism is the same as inserting your credit card inside an ATM. Now, disable your Samsung pay grey bar settings. Firstly,
Open up Samsung Pay
Click on the three-line Menu '⇶' option located at the top left corner.
Locate 'Settings'.
You will see options among the Home screen, Lock screen, and screen off.
You may find the options 'enable/disable. Click on disable to stop the grey bar from popping up.
How to Disable Samsung Pay Notifications
Samsung pay is making lives easier by dealing with everything starting from paying customers to eliminate the exchange of credit card and bank details. As there are technologies contained inside an integrated chip, we can scan or transfer data regarding any card or bank account.
You can disable Samsung pay on gear s3. Samsung pay has a reliable source of trust from its users and has a very rapid transaction procedure. You will notice Samsung Pay popping up. This is why users who are apparently new to this app should have an idea on how to disable Samsung pay.
In order to get updates like every other service, Samsung Pay notifies you about their offers, details, or security measures. Apply these measures and you will find the solution to your problem.
Open 'Settings' and locate 'Configurations'.
Click on 'Applications' and you will see the list of apps in your smartphone.
Open Samsung Pay and click on 'Show Notifications' you will find options that tell you either you can turn it Off or turn it back On.
Recommended to Read:
Removing Credit Card/Debit Card Details from Samsung Pay
It is true that Samsung Pay has been an authentic app to deposit or withdraw your money by the source of a digital wallet. There are also customers who would want their credit/debit card information in their bank app and would like to remove the details connected to the device. You can do it easily by using your handset, the first step would be,
Enter your Samsung Pay app and click on the menu icon(≡ icon).
Select cards and eradicate the cards you want to, one at a time.
You need to choose a valid motive for removing the cards, A notification will pop up to confirm the deleted cards. Select 'Delete'.
Your transaction information is also flushed out from Samsung Pay by as well.
Learn to Uninstall Samsung Pay
Are you facing difficulties uninstalling Samsung Pay on android? Probably you have to reboot your smartphone to delete this app. Rooting your android device helps to abolish your warranty date. Here is a simple way of uninstalling Samsung Pay,
Head over to 'Settings' and select 'Apps' and open Samsung Pay.
Two options, Uninstall and Force stop, will appear.
Select Uninstall and confirm by selecting
Disabling Samsung Pay on Samsung Galaxy S20 Home Screen
Open the menu on your Galaxy S20 and open Samsung Pay.
Inside Samsung Pay, open the menu icon( ≡ icon)
Locate Settings and select Use Favourite cards.
Select on toggle off for disabling the app displaying on your home screen.
How to Hide Samsung Pay
Samsung Pay has introduced us to a simple and easy way to initiate payments on our mobile phones. Samsung Pay is leading more features and offers to generate more elasticity dealing with cross-border payments with foreign merchants. Some users are displeased with the destination their Samsung Pay app is. So, to hide the Samsung Pay icon, We need to open up Samsung Pay and click on the menu icon ( ≡ icon), Locate Settings, and select Quick Access. Click on Off to discard the Samsung Pay icon from your Home screen. To confirm this option, select SET.
How to End Background Activity from Samsung Pay
Even though Samsung Pay has remote security features, they also do keep a record of your background activity in your cellular device on the app. A quick tutorial on how to stop background data on Samsung Pay,
Enter 'Settings' and locate 'Applications'.
From the list of apps, locate Samsung Pay.
Select Battery and you will see an option Allow background activity.
Select the Off/On button to confirm putting an end to background data.
Head over to the Samsung Pay framework and select Battery. Click on Optimize battery usage to stop battery drainage from background activity.
Final Word
Samsung Pay is creating a platform equivalent to bank accounts and credit/debit card transactions combined in a single application. Samsung Pay has been a very trustable platform for dealing with different transaction units from foreign marketing and dealerships. Samsung users also have the advantage of locking down or eradicating their profile if their handset is stolen or shoplifted.
But, there are customers that desire no personal information to be shared with Samsung Pay, which also raises third-party cookies and their files might contain non-necessary cookies filled inside them. Samsung Pay also promises a pleasant experience in browsing apps, doing app purchases,s and getting to know underrated security features.